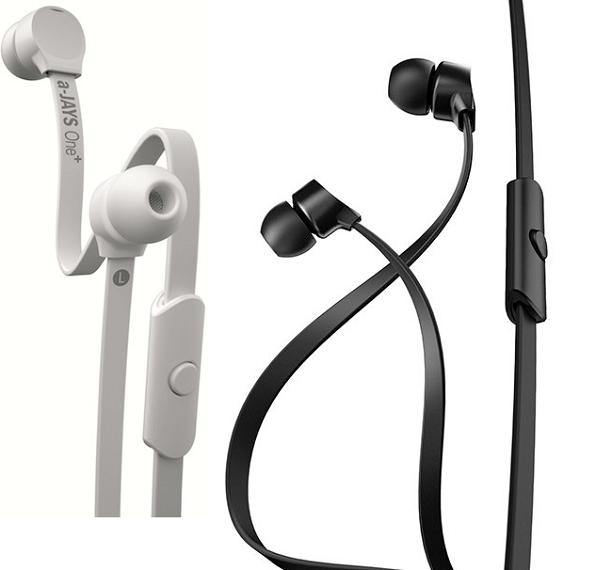 JAYS has announced their new a-JAYS One+ Android optimized in-ear headphones. The new in-ear headphones utilize a 8.6mm dynamic driver and feature tangle-free flat ribbon cables, built-in microphone/remote and an L-shaped connector headphone plug. The headset remote control is compatible with Skype and iChat, as well as music and video content streamed via apps like Spotify and YouTube.
JAYS has specially developed, complimentary JAYS Headset Control App for Android allows you to discover even more features, turning your a-JAYS One+ into a fully customized multi-feature control. The a-JAYS One+ is optimized for Android devices, but also works with any smartphone. The JAYS Headset Control App, adds even more features to your a-JAYS One+ headphones when using them with an Android device. The app turns the a-JAYS One+ into a fully customized, multi-feature control that allows you to change volume, skip songs, apply voice control and more. The free app can be downloaded directly to your Android device from Google Play.
For further customization of the headphones, the a-JAYS One+ comes with five pairs of silicone sleeves ranging in size from XXS to L. This choice means all a-JAYS users can achieve a natural, comfortable fit, and maximum external sound insulation. The included gift box packaging can be used to store the silicone sleeves when not in use or to protect them when on the go. Additionally, the a-JAYS One+ deliver a rich, deep bass response while uplifting and reinvigorating the rhythm sections of songs to create a spectacular sound experience.
Specifications:
Driver: 8.6 mm Dynamic Speaker
Sensitivity: 95dB @ 1kHz
Impedance: 16 Ohm @ 1kHz
Frequency Response: 20 Hz — 18 000 Hz
Isolation: -40dB @ 2kHz
Size: (L)18.3 x (W)11.8 x (H)13.8 mm
Weight: 14 grams (0.49 oz)
Cord Type: TPE coated flat tangle free cable
Size: Width 5mm / Thickness 1.2mm; Length: 115 cm (45 in)
Plug: L-shaped, Silver-Plated Stereo Plug 3.5mm (1/8 in)
The a-JAYS One+ is available now in black or white for $59.99 U.S. Look for more details at: www.jays.se.