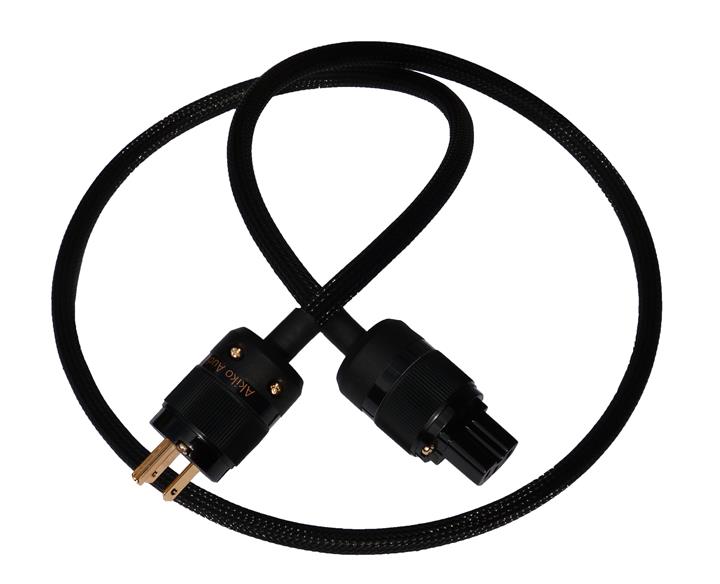 Sometime ago, I came across a most interesting product – a Tuning Stick made by a company from the Netherlands, Akiko Audio (www.akikoaudio.com).    The Akiko Audio Tuning Sticks proved to be much more than a curiosity, in fact an effective tool for drawing out natural musicality from an audio system.  You can learn more about Akiko Audio and their delightful Tuning Sticks in my review at https://novo.press/akiko-tuning-sticks-review-do-you-believe-in-black-magic/.
In late 2014, Akiko Audio launched a new value-oriented, entry-level power cable series – their Powercord HQ.  The Powercord HQ line of cables is designed with greater affordability in mind, while delivering a significant level of performance enhancement over standard OEM cords as well as entry level products and thus, perfectly suited to those hesitant or unable to spend more.
Soon after I read the press release on the Powercord HQ, I began exchanging emails with Marc & Sander van Berlo, the father & son owners of Akiko Audio, about getting in a review sample.  I decided to go with the most expensive model in the Powercord HQ series – the Rhodium version (€ 190) with a U.S. plug, which also comes with a European Schuko plug (€ 194).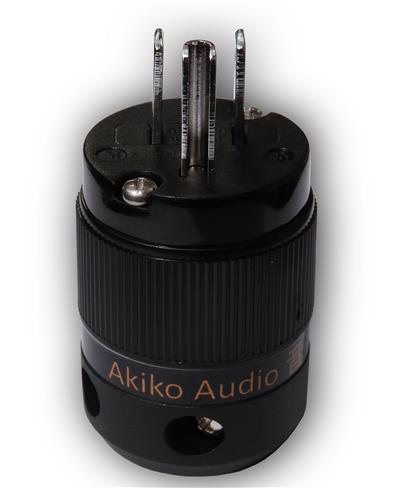 The other two models within the Powercord HQ series are the Copper (€ 145) U.S plug / (€ 149) Schuko plug and; the Gold (€ 165) U.S. plug / (€ 169) Schuko plug.  Each of the models though identically constructed, differ in one key aspect – the plating on their connectors; hence their names.  Though plating may sound trivial, Akiko Audio has taken the time to describe the key differences in the sonic character of these different HQ series models, as follows:
'copper connectors: warm sound, a lot of detail and good dynamics; 'gold connectors: neutral, slightly warm sound and excellent detail rendering and dynamics' and; 'rhodium connectors: neutral sound and excellent detail rendering and dynamics'.
Given that I myself tend to aim for neutrality and the fact that I actually have a full set of Akiko Audio Tuning Stick products that are great at drawing out natural "analog-like" warmth from my system, I chose to audition the Rhodium set.  However, depending on your particular system and what your preferences are, the Copper or the Gold models might turn out to be better suited to your objectives.
The Powercord HQ cable is composed of four 13 gauge electrolytic stranded O.F.C. copper conductors that are isolated by polyethylene (XLPE) insulation.  Polyethylene was chosen, given its excellent isolating properties, beyond that of the much more commonly used PVC or PE conductor insulation, found in other power cables.  The Powercord HQ also incorporates double shielding in the form of a polyester aluminum foil tape, together with copper braid shielding.  A unique symmetric double earth arrangement is employed within the Powercord HQ that involves the division of the reduced earth conductor into two separate conductors, each of which are positioned between the phase conductors to prevent EMI and RFI.  The outer-sheath of the cable is made of halogen free polyolefin, which is flame retardant as well as UV and oil resistant, making the Powercord HQ suitable for a wide array of applications.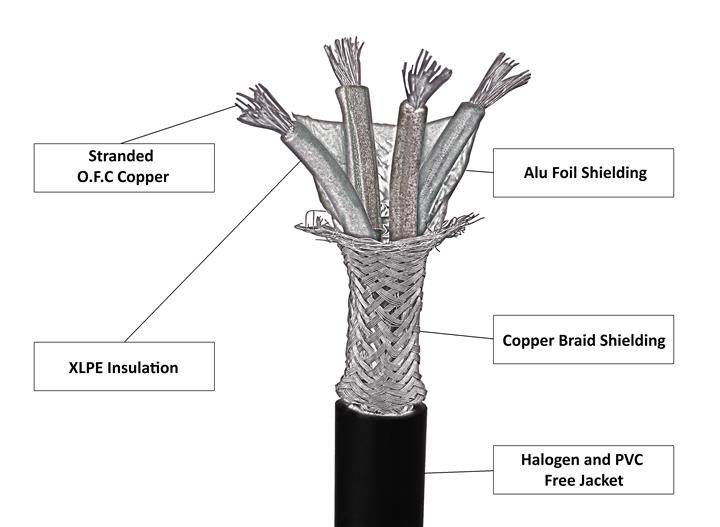 Akiko Audio ensures the highest level of quality goes into the Powercord HQ cables by having them hand assembled in The Netherlands, at Akiko Audio's own workshop.  This allows the additional benefit of being able to supply the Powercord HQ in any cable length requested.
I found the construction of the Powercord HQ to be robust, neat and handsome.  The all-black braided sheath had a very tight weave and fit well on the cable.  Terminations were secure, with each end having a thick 2-inch rubber-like collar at the threshold between the cord and the plug end.  The plugs themselves were very sturdy, with screwed enclosures and heavy duty connector pins that should make them almost immune to bending.  The plating on the connectors (Rhodium in the case of the review sample) appeared to be high-quality and showed no real signs of wear after rather significant use, during the review period.  I also found that the plugs fit nice and snug within the electrical receptacles – great for building my confidence in the connections.
I used my main system to evaluate the Powercord HQ.  My primary digital music source is a Squeezebox Touch, playing music files via hard-wired Ethernet from my PC. The Squeezebox runs through an ADL Esprit DAC and into a Simaudio 350p preamp that controls a Bryston 4B-SST2 amp.  Other sources used were my Rega Apollo CDP as a transport and a VPI Scout turntable.  I used my KEF LS50 and Aurum Montan VIII loudspeakers.  For the evaluation, I used two 3-foot Powercord HQ cables connected to the preamp and amp in my system, where I found they provided the greatest benefit; however, I also evaluated a single Powercord HQ on my Apollo CDP.