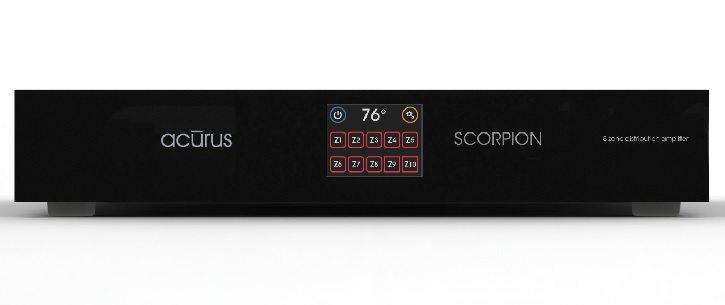 Indy Audio Labs (parent company of Acurus and Aragon brands) has just announced that shipments of their new Acurus Scorpion multi-zone amplifier have begun. The Acurus Scorpion is designed specifically for medium-to-large residential applications and combines a rugged USA construction with the high-end performance>
The Scorpion incorporates proprietary web control technology to simplify remote audio adjustments, zone configuration and setup via modern mobile devices and tablet PCs. The new Scorpion mulit-zone amplfier delivers 40 Watts/channel of low-noise, low-distortion audio simultaneously to 8 stereo audio zones (16 channels in all) despite being very compact – 2 RUs (rack units) high. The Acurus Scorpion is designed to run cool in operation and allows for bridging of stereo channels, within zones to produce up to 160W (into 8 ohm).
Built-in audio matrix capabilities eliminate the need for external audio matrix switchers in many applications, saving time, cost, system complexity and rack space. Two dedicated pre-amp outputs with over 100dB dynamic range are included and have full input matrix capabilities. These outputs (zones 9, 10) are ideal for applications requiring higher-powered, independently controllable audio zones. External power amplifiers may be driven using these outputs and/or additional Scorpion units may be daisy-chained, expanding coverage to 16 or more stereo zones.
A full-color touch panel display in front facilitates easy monitoring and setup and can be set to sleep after a timeout period or even locked out via password in order to prevent tampering when mounted in a rack. In addition to Ethernet and RS-232 ports, 12V trigger in and out ports are included and are assignable per zone for maximum control flexibility. The built-in DHCP-enabled web server in the Acurus Scorpion, along with the front-panel display, automate connection to a local network for web control via smartphone or tablet in minutes.
The Acurus Scorpion is available now at a MSRP of: $3,599 U.S. Look for more details at: http://www.acurusav.com