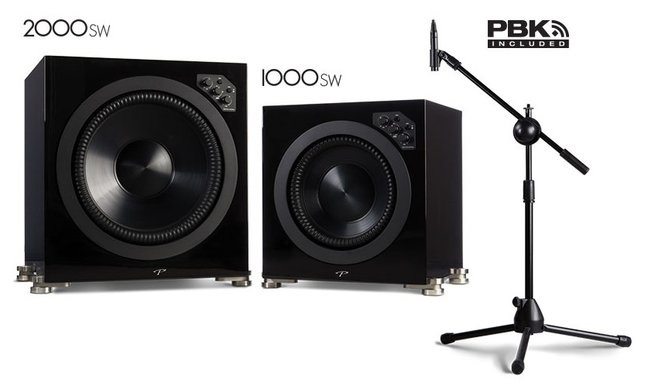 Paradigm Electronics has just announced two brand new subwoofers within their latest Prestige Series – the 12" Prestige 1000SW and 15" Prestige 2000SW. The new subwoofers are designed, engineered and crafted in Canada. Four attractive finishes are available with built-in Ultra-Class D power amplification. The new subwoofers come with Paradigm's Perfect Bass Kit (PBK) – a state-of-the-art system that analyzes the subwoofer's in-room-response and sets the correct equalization parameters for optimal bass performance.
Prestige 2000SW
•3,400W Dynamic Peak; 2,000W RMS
•15" X-PAL Pure-Aluminum Cone Woofer with Patented Active Ridge Technology (ART) Surround
Prestige 1000SW
•1,700W Dynamic Peak; 1,000W RMS
•12" X-PAL™ Pure-Aluminum Cone Woofer with Patented Active Ridge Technology (ART) Surround
With front-mounted controls, the Prestige subwoofers are easy to control/adjust.
Advanced Technology:
•Efficient Ultra-Class-D Amplifier: More than 90% efficient, Prestige subwoofers are designed to completely control the bass driver for up to 2,000 Watts of sustained power.
•Ultra-Low Noise Transformer: Unlike cumbersome and heavy transformers used in line frequency power supplies, Prestige 2000SW uses noise reducing networks and an advanced control circuit resulting in high current and ultra-quiet operation.
•Digital Signal Processing: Paradigm has maximized processor efficiency and audio output to deliver a consistent and musical bass without audible distortion – even when the played at loudest level.
•Super-strong diecast basket features an integrated heat sink for higher power handling, better bass, and better dynamics and less power compression.
•Lightweight, extremely durable high-excurision Nomex spider design: delivers a longer life of flexibility and performance. Nomex is 10-times stronger than industry-standard cotton-based spider material.
High Excursion Bass Driver:
•Paradigm's Patented Active Ridge Technology (ART) Surrounds: Made in-house and overmolded directly to each cone, ART surrounds achieve greater excursions for a 3dB gain in distortion-free output (50% greater) compared to drivers with standard surrounds.
•X-PAL Pure-Aluminum Cone Woofers: combine lightweight stiffness with high consistency for a greater degree of accuracy and smooth, uncolored frequency response. Matching X-PAL™ dust caps ensure a more uniform dynamic response and a clean, modern aesthetic.
•ParDual Voice Coil Design: Wound on high-temperature Kapton formers, the multi-layer voice coils provide exceptional motor strength.
•Extruded-Aluminum Center Heatsinks: Provide internal forced-air cooling to force heat away and increase power handing while reducing distortion.
The new Prestige subwoofers are now available. The Prestige 2000SW has a MSRP of: $3,999/ea U.S. in Walnut, Black Walnut and Piano Black finishes. The Prestige 1000SW has a MSRP of: $2,999/ea U.S. in Walnut, Black Walnut and Piano Black. The Midnight Cherry finish is special order at a $300 U.S. premium for both subwoofers. For additional details, please visit: http://www.paradigm.com/