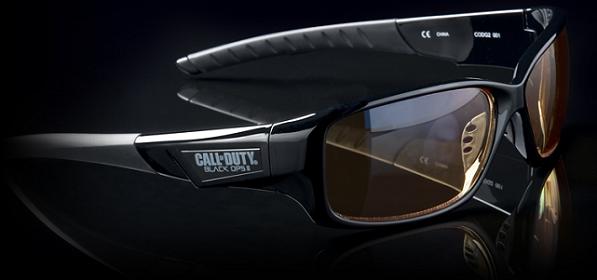 Allure Eyewear, is introducing officially licensed Call of Duty: Black Ops II branded gaming glasses, 3D gaming glasses and sunwear.
Call of Duty: Black Ops II Gaming Eyewear incorporates high contrast curved lenses to enhance the graphics of Call of Duty: Black Ops II. Designed for extended comfort, the curved lenses cut down distracting peripheral light, helping to improve focus and attention to game detail, while the anti-glare coating reduces reflections and improves screen view
Call of Duty: Black Ops II 3D Gaming Eyewear, is compatible with those playing in 3D on passive 3D TVs, laptops and monitors. The curved lenses in Allure's new 3D gaming glasses are designed to improve visual clarity, reduce ghosting and deliver a more vibrant 3D image. The frame designs contain flat temple arms to provide a professional fit and long term comfort.
Allure Eyewere will also introduce exclusively-licensed, branded sunglasses with an EXT Copper Contrast Lens ideal for any activity in medium to bright light conditions requiring high-contrast definition.
The Allure Eyewear Call of Duty: Black Ops II products will be priced as follows:
Gaming Eyewear: $29.99 U.S. to $84.99 U.S
3D Eyewear: $44.99 U.S. to $94.99 U.S.
Sunglasses: $29.99
Look for more details or to purchase Allure's line of Call of Duty: Black Ops II glasses at: www.callofduty.allure-eyewear.com.