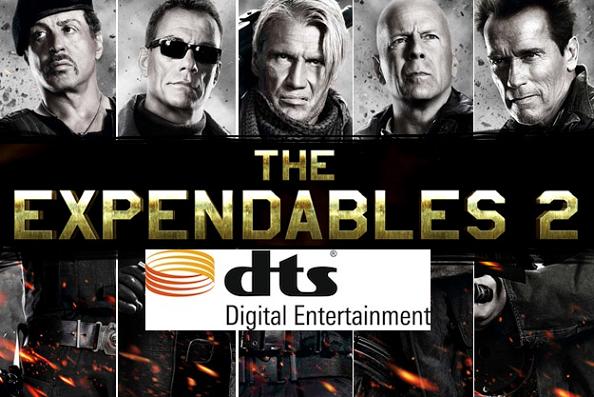 DTS, Inc., just announced that The Expendables 2 on Blu-ray, available on November 20 from Lionsgate Home Entertainment, will be the first Blu-ray disc to feature a DTS Neo:X optimized soundtrack, allowing viewers to hear the movie in room-shaking 11.1 surround sound. Home theater systems equipped with Neo:X processing can take full advantage of the mix and will enable consumers to experience a truly multi-dimensional sound stage.
• Home audio receivers equipped with DTS Neo:X offer entertainment consumers an unprecedented multi-dimensional audio experience by optimizing 5.1 or 7.1 DTS-HD Master Audio soundtracks for a full 11.1 experience. DTS Neo:X technology enabled on films, such as The Expendables 2, is designed to provide a high intensity audio experience and elevate the 3D home entertainment experience to a new level.
• Front-height speakers deliver discrete effects to the vertical dimension, elevating ambient sounds (e.g., special effects, room reverberation, wind, thunder, background music, etc.) to a third dimensional space for more depth and realism from the soundtrack.
• Wide speakers expand the sound stage image and provide smooth and seamless tracking of front-to-side action (e.g., the sound from an automobile passing through from the front to the left side of the screen and vertically as the action moves up the screen.)
AV receivers currently available in the market that feature DTS Neo:X processing benefit from dedicated height/wide speakers that provide distinct direction for sound. The height speaker configuration adds a vertical dimension for overhead sounds, while the wide speakers provide smooth and seamless tracking of front-to-side sound for the most realistic audio experience. DTS Neo:X is the world's first 2.0/5.1/6.1/7.1-to- 9.1/11.1 conversion technology within a single algorithm and allows connected consumers to enjoy movies, music and games as they were originally intended to be heard.
The Expendables 2 on Blu-ray is the first product to launch featuring a DTS Neo:X optimized surround sound mix capable of delivering an 11.1 cinematic audio experience at home, and is also the first Blu-ray disc to feature a customized Neo:X 11.1 sound check featuring audio from the movie soundtrack, which can be accessed in the disc's main menu. Neo:X is fully backwards compatible with 7.1, 5.1 and even stereo playback. DTS is currently in discussions with major studios and independent filmmakers to release additional titles with Neo:X optimized soundtracks to capitalize on this groundbreaking technology. DTS continues to work with CE manufacturers to deploy Neo:X processing on their AV receiver systems.
Visit DTS for more information, go to: www.dts.com.
---