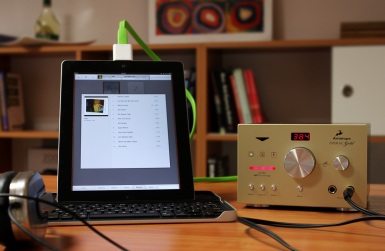 Antelope Audio's Zodiac D/A converters are now compatible with iPad, allowing music lovers to enjoy pristine audio of up to 384 kHz, played and controlled from their iPad through the Zodiac DAC.
It is easy to connect and operate. Simply plug an Apple Camera Connection Kit jack into the iPad and then plug in a USB cable to the Zodiac DAC – that's it. The devices are connected. Then swiftly tap the Music App on the iPad and play the track.
The Zodiac DACs are compatible with iPads running the latest operating system (e.g. 5.0.1 or later). The DACs support mp3 files up to 384 kHz and FLAC files through a FLAC player up to 192 kHz.
Short video demonstrating the plug & play functionality of iPad and Zodiac DACs is available here or paste http://bit.ly/zYbAl0 into your browser.
For more info, please visit www.antelopeaudio.com.