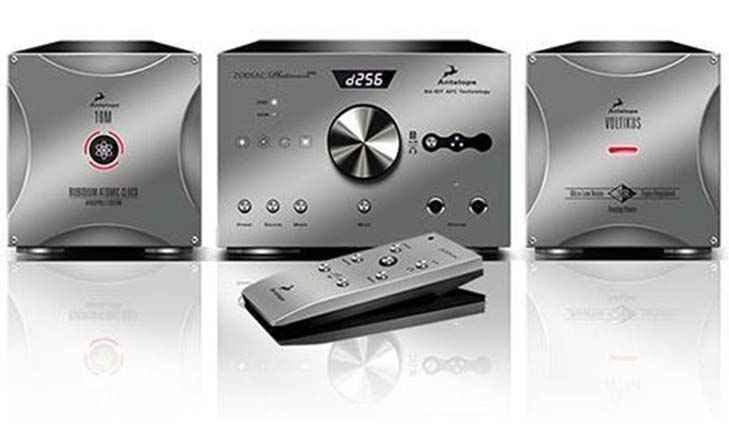 Antelope Audio has just introduced a new combination of components: the Zodiac Platinum DAC with their Audiophile 10M Atomic Clock.  The high rate, dual DAC architecture of the Zodiac Platinum paired with the ultra stability provided by the 10M Atomic Clock has been assembled to deliver an uncompromising digital source solution.
Antelope Audio, a company widely known for its digital clocking technologies in the pro audio market has leveraged their technology for the 10M Atomic reference generator, used in mastering studios around the world.
The Zodiac Platinum features ultra-low jitter USB for streaming up to DSD128 and 384 kHz PCM, as well as comprehensive analog and digital I/O — including analog preamp inputs to various analog sources.  To ensure the highest level of details, imaging and dynamics, the Zodiac Platinum incorporates 64-bit precision 8x linear phase PCM and DSD upsampling capabilities and high rate dual DAC architecture.  High precision relay attenuators and dual variable impedance headphone outputs give listeners even greater control.
The Audiophile 10M Atomic Clock is an upgraded and enhanced version of Antelope's legendary Isochrone 10M Atomic Clock that is well-known and regarded in the pro arena.  Pairing this 10M Audiophile Atomic Clock, with the Zodiac Platinum Acoustically Focused Clocking (AFC) jitter management technology delivers a noticeable improvement on audio depth and clarity.
Voltikus PSU is a second-generation power supply that has been purpose built for the Zodiac Platinum. The Voltikus' triple regulated power supply, along with its integrated power line filtering, can make a significantly positive difference in audio quality, especially when combined with the Zodiac Platinum and 10M in an uncompromising DAC and clocking environment.
The Zodiac Platinum DSD DAC & Audiophile 10M Atomic Clock Bundle is available for: $12,995 U.S. The Zodiac Platinum ships with a dedicated aluminum IR remote and as well as a custom software control panel for PC, Mac or mobile control applications.  To learn more visit Antelope's suite at CES (the Venetian, Suite 29-129). For more information look to: http://www.antelopeaudio.com/en.
Comments are closed.