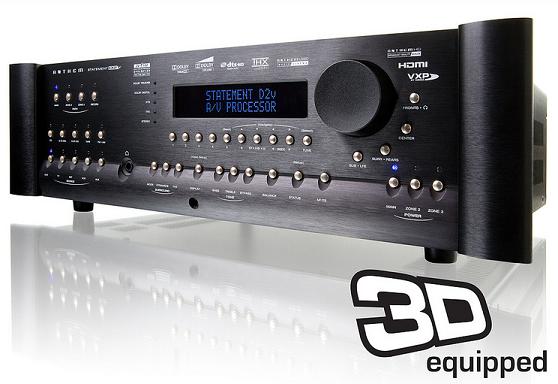 Anthem, sister company of Paradigm, has just announced a 3D upgrade to their Anthem Statement D2v and Anthem AVM 50v AV processors.  The latest generation Statement D2v 3D and AVM 50v 3D have 8 HDMI inputs and 2 parallel outputs: HDMI Inputs 1 to 4 as well as HDMI Output 1 now support 3D pass-through mode.  Switching will occur automatically upon sensing a 3D source.
When detecting the presence of 3D video, the new Anthem circuit boards go into pass-through mode as per a source menu option for video output configuration, passing the 3D HDMI signal from a 3D Blu-ray player to a 3D display at resolutions up to 1080p.  For additional convenience, in pass-through mode the output refresh rate is now automatically matched to the source's frame refresh rate, useful for sources that output a mix between 24, 50 and 60 Hz.
A physical upgrade for existing owners of the Anthem preamplifier/processors will also be available (shipping to start in August, 2012) via a new dealer-installed mezzanine board which replaces the two smaller video boards for HDMI Inputs One through Four and HDMI Output One.  A software update, downloaded from the Anthem website, will also be part of the upgrade package.  Complementing the 3D switching and automatic pass-through features, the upgrade equips both processors with video processor bypass for 2D, useful for reference quality video content that does not require cleanup or scaling. The on-screen status display information does not apply in "through" mode, since video processing is bypassed.
In developing the upgrades, Anthem subjected both A/V processors to rigorous compliance testing in order to achieve HDMI certification.  As a pioneer in the troubleshooting and integration of HDMI, Anthem understands how to use these connections to their fullest.  The processors are equipped with four additional HDMI inputs (for a total of eight) and one additional HDMI output (for a total of two).  All inputs and outputs offer Deep-Color support (36-bit).
Anthem's heralded Anthem Room Correction (ARC) system also comes standard with the latest Statement D2v 3D and AVM 50v 3D. 
The Statement D2v 3D and AVM 50v 3D are currently available .  MSRP for the Anthem Statement D2v 3D is $10,499 and for the Anthem AVM 50v 3D, $6,999.  The MSRP for the 3D upgrade kit is still to be announced.  For more information, please visit www.anthemAV.com