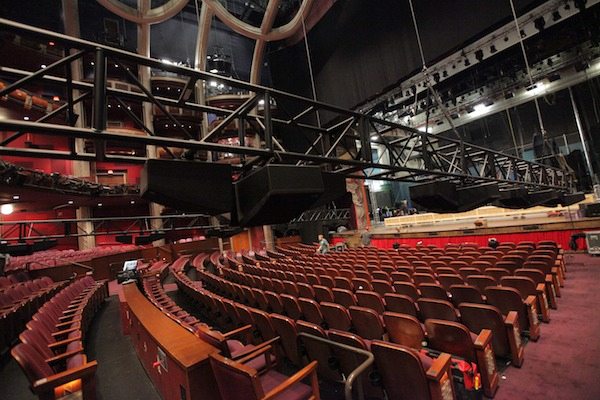 Dolby Laboratories has just announced the names of select movie theatres that will screen Disney Pixar's Brave in Dolby Atmos, the new audio platform that promises to change the experience of sound in entertainment. The world premiere of Brave took place at Hollywood's Dolby TheatreSM, using Dolby Atmos and Dolby 3D to transport the audience into the adventure, with a lifelike and immersive sensory cinema experience. Following the premiere, Dolby Atmos will continue to wow Brave audiences at select theatres across North America.
The following theatres in the United States and Canada are slated to show Disney Pixar's Brave in Dolby Atmos:
• AMC BarryWoods 24 (Kansas City, MO)
• AMC Burbank 16 (Burbank, CA)
• AMC Century City 15 (Century City, CA)
• AMC Downtown Disney 24 (Lake Buena Vista, FL)
• AMC Garden State 16 (Paramus, NJ)
• AMC Van Ness 14 (San Francisco, CA)
• ArcLight Sherman Oaks (Sherman Oaks, CA)
• Brenden Theatres at the Palms (Las Vegas, NV)
• Century at Pacific Commons and XD (Fremont, CA)
• Cinemark West Plano and XD (West Plano, TX)
• SilverCity-Yonge Eglington Cinemas (Cineplex) (Toronto, ON)
• Cinetopia Vancouver Mall 23 (Vancouver, WA)
• El Capitan Theatre (Hollywood, CA)
• Kerasotes ShowPlace ICON at Roosevelt Collection (Chicago, IL)
About Dolby Atmos
The latest sound technology from Dolby Laboratories, Dolby Atmos brings a powerful new listening experience with more natural, realistic cinema sound that truly envelops the audience. It is an end-to-end solution that takes into account the entire content pipeline and brings together mixers, studios, and distributors to create dramatic improvements in the audio experience. The Dolby Atmos platform provides content creators with a new creative freedom to tell their stories and simplifies movie distribution with a single universal package to deliver to audiences the full impact of the artist's intent, regardless of theatre configuration.
Here's a link to a video that explains Dolby Atmos:
http://www.dolby.com/us/en/professional/technology/cinema/dolby-atmos-video.html
To learn more about Dolby Atmos, visit www.dolby.com/Atmos