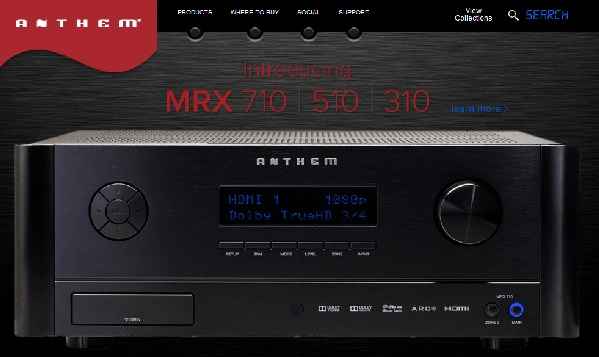 Anthem Electronics has just launched a new consumer website with a much more user-friendly design that makes online researching of Anthem products easier than ever.  Product pages now include North American retail pricing, allowing consumer to find products that meet there feature as well as their budget requirements.  Product specs, reviews and downloadable literature are now easily accessible.
The new Anthem website isn't a refresh but rather a top to bottom re-design that provides more intuitive and easier navigation.  The site now adds hi-resolution product photography.  Products have been organized under two distinct collections:
• Statement Collection: Anthem's top end collection of components designed exclusively for those who want the ultimate in audio/video performance
• Performance Collection: A lineup of award-winning state-of-the-art audio/video performers that offer an exceptional performance and value
An Anthem's Dealer Locator makes it easy for customers to find out where to buy any Anthem product – using Google automatic geolocation based on location. Users can also narrow their search to find Anthem dealers that carry a specific collection — Statement or Performance, as well as specific models within the collection.
Customers who want to keep track of their purchases can use a simple online product registration tool and in the coming months, will also be able to review their product experience on the website for other customers to see. Considerable emphasis is placed on talking directly with customers and fans and a new Social tab is located at the top of the navigation bar; its high visibility location gives visitors easy access to Anthem's popular and very active Facebook, Twitter, Blogger and Flickr pages with YouTube channel coming.
Company information, customer support and contact information is available at a simple click.  To experience the new website and learn more about Anthem, please visit www.anthemav.com.