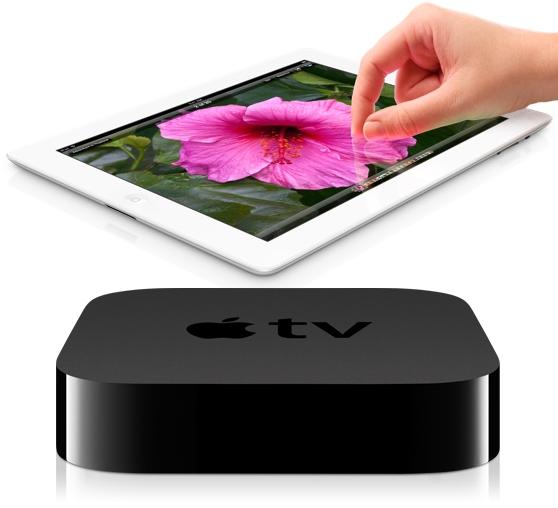 Apple has just announced 3rd-generation models of both the iPad and Apple TV.
Apple iPad 3:
The new 3rd generation Apple iPad features a new Retina display, new A5X chip, and a 5-megapixel camera with 1080p HD video recording. With the release of the iPad 3, the iPad 2 is now being offered at a lower cost.
The new iPad's Retina display delivers four times the number of pixels of iPad 2.
The 3.1 million pixels in the Retina display are more than one million more pixels than an HDTV, and also has a 44% increase in color saturation.
The powerful new A5X chip with quad-core graphics has double the graphics performance of the former iPad 2 A5 chip.
The 5 megapixel iSight camera features advanced optics for improved pictures and full HD video recording. Backside illumination allows you to take great photos in low-light conditions and a new video image stabilization feature removes the bumps and shakes typically seen when filming with a hand-held device.
iPad Wi-Fi + 4G with built-in next generation 4G LTE has the most comprehensive support for fast networks worldwide including HSPA+ and DC-HSDPA, and now both CDMA and GSM iPad users have the ability to easily roam internationally.
With iOS 5.1, the latest update to the world's most advanced mobile operating system, the new iPad has a number of new features and enhancements.
The new iPad also supports dictation; tapping the microphone icon on the keyboard, the iPad listens and coverts your vocalized speech to text and can be used with third-party apps.
The new iPad Wi-Fi models will be available in black or white on Friday, March 16, 2012
iPad Wi-Fi:
$499 (US) for the 16GB model
$599 (US) for the 32GB model
$699 (US) for the 64GB model
iPad Wi-Fi + 4G (AT&T or Verizon):
$629 (US) for the 16GB model
$729 (US) for the 32GB model
$829 (US) for the 64GB model
iPad 2:
$399 (US) for the 16GB Wi-Fi model
$529 (US) for the 16GB Wi-Fi + 3G model
Apple TV 3:
The new 3rd-generation Apple TV features 1080p programming. The new Apple TV features a simpler, refined user interface making it easier than ever to access your purchased movies, TV shows and music with iTunes Match right from iCloud. With AirPlay, users can stream or mirror their favorite content from their iPad or iPhone 4S to Apple TV.
Apple TV makes it easy to enjoy iTunes video, music and photo libraries from your computer right on your HDTV — and with iCloud you can instantly enjoy content that was purchased on your iPhone, iPad or iPod touch as well. iTunes Match customers can now play their entire music library from iCloud — even songs they've imported from CDs. Users can also control Apple TV with their iPhone, iPad or iPod touch using the Remote app, available as a free download on the App Store.
iPhone, iPad and iPod touch users can use AirPlay to wirelessly stream music, photos and videos from their devices directly to their HDTV with Apple TV. iPhone 4S or iPad users can use AirPlay Mirroring to show the screen of their device right on their HDTV, allowing them to stream web pages, spreadsheets or even games.
Apple TV users can choose from an incredible selection of programming including over 15,000 movies and over 90,000 TV episodes on the iTunes Store. Apple TV also offers great content from Netflix's streaming catalog, live sports from MLB, NBA and NHL as well as Internet content from Vimeo, YouTube and Flickr.
Apple TV will be available on Friday, March 16, 2012 for $99.
Look for more details at: www.apple.com.