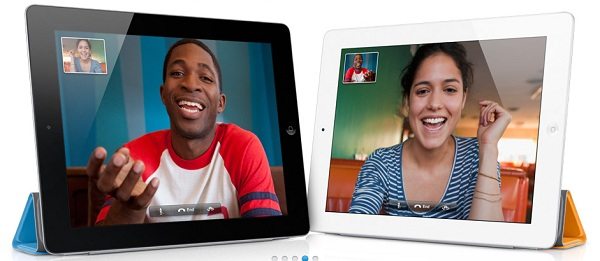 Steve Jobs, who has been on medical leave since the end of January, enthusiastically hit the stage yesterday in San Francisco to reveal the details of the second generation iPad.
Starting at $499 US, the iPad 2 will be thinner than the iPhone 4, offers double the power of the first iPad and comes outfitted with two cameras.
The iPad 2 features an new design that is 33 percent thinner and up to 15 percent lighter than the original iPad, while maintaining the same 9.7-inch LED-backlit LCD screen. The iPad 2 features Apple's new dual-core A5 processor for blazing fast performance and stunning graphics and offers a front-facing VGA camera for FaceTime and Photo Booth, and a rear-facing camera that captures 720p HD video, bringing the innovative FaceTime feature to iPad users for the first time. Though it is thinner, lighter, faster and packed with new features, the iPad 2 still delivers up to 10 hours of battery life. The iPad 2 is available in black or white,
With the new front and rear cameras, iPad 2 users can now make FaceTime calls to millions of iPhone 4, iPod touch and Mac users so they can see family and friends anywhere there is Wi-Fi. Photo Booth lets you apply fun visual effects, including eight photo special effects like Squeeze, Twirl and Kaleidoscope, to photos captured by either camera.
iPad 2 comes with iOS 4.3 which offers new features including faster Safari mobile browsing performance; iTunes Home Sharing; enhancements to AirPlay; the choice to use the iPad side switch to either lock the screen rotation or mute audio; and Personal Hotspot to share an iPhone 4 cellular data connection over Wi-Fi. Additional iPad 2 features include a built-in gyro for advanced gaming; HSUPA support for enhanced 3G upload speeds on iPad 2 Wi-Fi + 3G on AT&T, and HDMI Video Mirroring that lets users mirror their iPad screen on an HDTV using an optional adaptor.
The innovative new iPad 2 Smart Cover provides protection for the iPad screen while maintaining its thin and lightweight profile. Designed with a unique self-aligning magnetic hinge that makes it easy to attach and remove, the new iPad 2 Smart Cover automatically wakes iPad 2 when it's opened and puts it to sleep when it's closed, and has a soft microfiber lining to help keep the screen clean. The Smart Cover also folds into a stand for typing or viewing videos and is available in vibrant polyurethane for $39 or rich leather for $69 in a range of colors, including a (PRODUCT) RED one which helps support the Global Fund to fight HIV/AIDS in Africa.
Apple also introduced two new apps: iMovie and GarageBand for iPad, both available on the App Store for $4.99 each. With iMovie, iPad 2 users can shoot and edit videos right on their iPad and post their movies to YouTube, Facebook, Vimeo and their MobileMe gallery; watch them on their iPod, iPhone or iPad; as well as view them on their HDTV using AirPlay and Apple TV. GarageBand turns your iPad into a collection of touch instruments and 8-track recording studio, allowing you to perform with onscreen keyboards, guitars, drums and basses using multi-touch gestures–even if you don't play a musical instrument.
The iPad 2 with Wi-Fi will be available in the US on March 11 for $499 (US) for the 16GB model, $599 (US) for the 32GB model, $699 (US) for the 64GB model. The iPad 2 Wi-Fi + 3G will be available for a suggested retail price of $629 (US) for the 16GB model, $729 (US) for the 32GB model and $829 (US) for the 64GB model.
In Canada, the iPad 2 will be available on March 25.  Canadian pricing has yet to be announced.
For more info, please visit www.apple.ca.