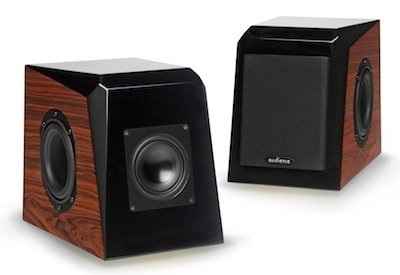 Audience has just announced that it is shipping its ClairAudient 1+1 bi-pole (front-rear-radiating) loudspeaker.  The new ClairAudient 1+1 provides a statement with its high gloss black multi-angled enclosure that is tastefully accented by rosewood sides.
The Audience proprietary A3-S driver, although just 3 inches in diameter, can provide near flat frequency response from 50Hz to 22kHz (in room) and therefore eliminate the need for separate woofer, midrange driver, tweeter, and crossover network.  The simple driver arrangement of the 1+1 allows reduces the problems with typical multi-driver arrangements and thus reduces potential phase distortions, loss of resolution and transient response degradation that are due to a crossover network.  The dual side-mounted passive radiators augment the output of the A-3S drivers providing the ability for the 1+1 to deliver a higher degree of presence and dynamic contrast.
The 1+1 also utilizes Audience's unique SSIT SweetSpace TM Imaging Technology that provides an expanded listening area rather than the usual single listener sweet spot.
The A3-S driver features a large patented neodymium-magnet motor structure and voice coil that moves with a highly linear excursion. It utilizes an exclusive rigid lightweight anodized aluminum-magnesium alloy cone material with a curvilinear shape. The driver's concave dust cap is made of a proprietary material that is specially designed to control high-frequency cone breakup and provide optimum dispersion.
The patent-pending A3-S surround has a unique "S" shape that allows the driver to provide large excursions without impacting the movement of the cone, enabling the driver to behave more like an ideal pistonic (back and forth) radiator. The driver's patent-pending basket (frame) provides rigid support and eliminates sonically degrading resonances. Other refinements include large pole-piece vents for efficient heat dissipation, a spider (the circular piece that holds the driver's voice coil in place) that allows unrestricted cone movement and many additional enhancements.
The ClairAudient 1+1 is designed, engineered and handcrafted in the United States and currently available at a MSRP of $1,800 U.S. per pair.  Look for more details at: www.audience-av.com.