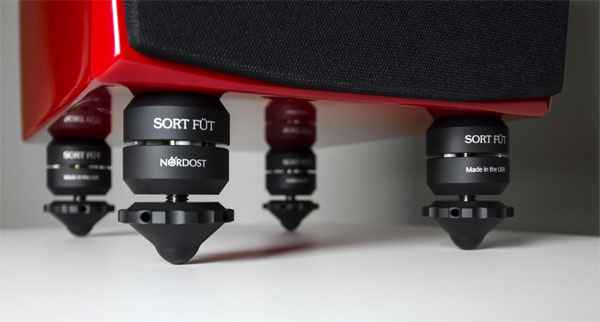 Nordost will be debuting their latest product, the Sort Füt, to the Canadian Market at TAVES November 1-3. Not only will TAVES attendees visiting Nordost's exhibit room 888 benefit from the demonstrations and live cable comparisons that Nordost has become known for, but they will also become the first consumers to witness the Sort Füt.
The Sort Füt is Nordost's latest addition to their Sort System. This mechanically tuned resonance control device improves upon the standard spikes and stabilizers that are provided with loud speakers and racks. The Sort Füt is purpose-built to bypass the soft feet fitted to equipment, providing a mechanical ground path for the harmful internal energy produced by vibrations in components.
The body of the Sort Füt boasts an aluminum-bronze construction that is separated by three ceramic balls (ZrO2). These bearings minimize surface contact area while still providing physical stability. The Sort Füt is completed with a finial dome, customized to decrease the effects of unwanted vibrations. All units come with 6mm and 8mm threaded adaptors so that they can easily adjust to any size speaker or rack.
While individual Sort Füt units are available for purchase at a retail price of $350.00, the Premium Package is the quintessential set-up kit to get any system sorted with ease and, more importantly, precision. In addition to four Sort Füt units and the standard 6mm and 8mm threads, the Premium Package, which has a retail price of $1,500.00, includes an adjustment tool that allows you to customize the height of your components. It also consists of a laser leveling system and graphic set-up guide, ensuring the precise installation necessary to produce optimum results from a loudspeaker system.
In addition to the Sort Füt, Nordost will also be featuring its recently introduced Valhalla 2 Reference Cable Range. This latest range consisting of analog, digital, and tonearm interconnects, as well as loudspeaker and power cables, has been met with rave reviews since its debut at the High End Show, M.O.C. in Munich this past spring. The new Valhalla 2 range uses upgraded Dual Mono-Filament technology, along with an innovative proprietary connector called the HOLO:PLUG™. The HOLO:PLUG™ is a patent pending connector, designed to be the best possible interface between cable and component, transferring every last nuance of detail and making it the pinnacle of mechanical and electrical integrity.
Nordost is excited to share these new innovations with TAVES guests. All are invited stop by room 888 to experience the musical color, focus and dynamic range any system could be capable of. Nordost representatives, Paul Richotte and Bruno de Lorimier will be performing demonstrations and are available throughout the entirety of the show for questions.