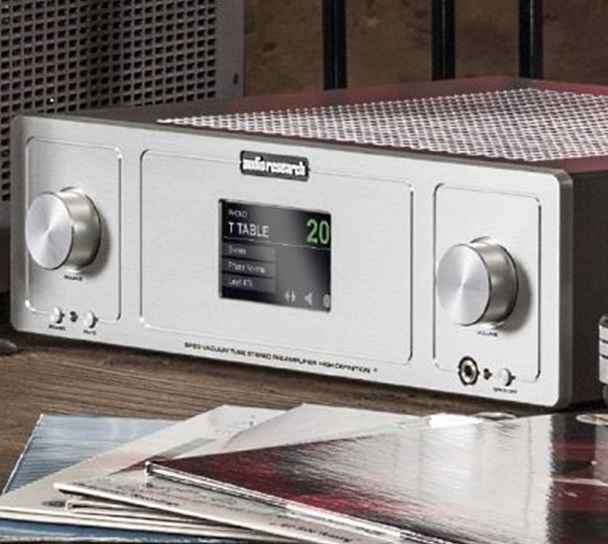 Audio Research has just introduced a new full-function vacuum-tube preamplifier. The new SP20 has been designed to clearly outperform the existing SP17 preamplifier.
Aesthetics are classic Audio Research but with a modern, clean and purposeful design. A new 4.3? LCD touchscreen, with two large rotary knobs on either side can be found on the front face. The SP20 also includes a ¼" headphone jack – a first for Audio Research. In addition, there are three buttons for power, mute, and speaker off.
The input selector and volume knobs are continuously rotating, optically-coupled and speed sensitive i.e. quick turns on the volume make for larger increases in volume.
The front panel touchscreen allows for changing inputs, selecting stereo/mono, muting, phase adjustment, balance and phono load adjustment (50, 100, 500, 1000 or 47k Ohms). Input names, input gain adjustments, volume presets, display brightness and tube usage hours can all be accessed via the settings menu, accessible through the touchscreen.
Four single-ended inputs, two balanced inputs, one phone input, separate monitor-in and record-out, as well as two pairs of balanced outputs are provided. There is also an RS-232 port, IR-input, 12V trigger, and a 15A IEC connector. The SE4 input can be configured as a home theater pass-through.
The SP20 is fully balanced, pure Class-A with zero feedback. There are seven levels of voltage regulation, a large power supply, and a very low-noise R-core power transformer. Both the line and phono stages feature low-noise JFET inputs and 6H30 (2 per section) outputs. The latest high performance coupling and bypass capacitors are used in both stages. Bandwidth is extraordinary: Line -3dB 0.8Hz – 220kHz, Phono +/- 0.4dB 5Hz—80Hz. Gain of the line section is 13.8dB (BAL), and gain of the phono section is 58dB, so the SP20 can be used with a wide variety of phono cartridges, including moderately low output moving coils.
The headphone output is a low-distortion, high-performance vacuum-tube headphone amplifier designed to drive a wide impedance range of headphones.
The SP20 has been designed to present music in a relaxed, natural, transparent and solid manner with great dynamics and impact. Audio Research has attempted to provide a musical and effortless presentation that is never threadbare but rather possessing texture and a luminous three-dimensional quality.
The SP20 will be offered in "natural" silver and black finishes. Natural finished units will begin shipping in early September with black to begin shipping in October. The MSRP will be $9,000 U.S. Look for more details to become available at: www.audioresearch.com.