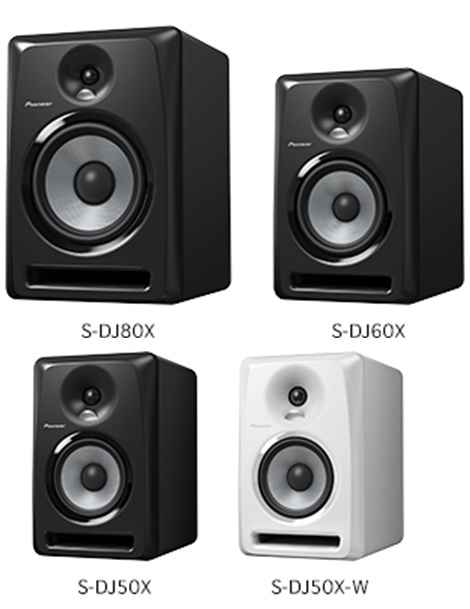 Pioneer has just released a new series of active monitor loudspeakers under its Pioneer DJ brand. The new S-DJ X series of active monitor speakers incorporate speaker technology from Pioneer and their pro audio sub-brand TAD.
The new S-DJ X series are optimised to produce rich, tight and punch bass, even at high volumes. The 5-inch, 6-inch or 8-inch woofers are crafted from stiff aramid fiber, and mounted directly on thick baffles to reduce unwanted resonance. Highly rigid bass reflex ducts feature grooves to reduce resistance.
The S-DJ X series utilize 1-inch soft dome tweeters with DECO convex diffusers leveraged from TAD for a wider sweet spot. New Class AB bi-amplifiers for driving the tweeter and woofer have been developed to provide well-balanced response with high clarity. A range of inputs, volume control, high frequency adjustment, auto standby and Auto ON enhance functionality.
The S-DJ X offers the 6-inch and 8-inch models in classic black, while the the 5-inch is offered in black or white.
Designed with the DJ's convenience in mind, the new monitors come with a variety of flexible features:
• Range of inputs: DJs can choose between balanced XLR and TRS phone, and unbalanced RCA.
• High frequency level control: DJs can adjust the treble levels (-2 dB/-1 dB/0 dB/+1 dB) to suit their needs and environment.
• Power illumination: an arc-shaped power light shows when the speaker is on.
The new Pioneer DJ speakers are sold individual (not in pairs) and will be available by mid-September 2013 at the following prices:
Pioneer S-DJ80X (8-inch, black) $249 U.S. each
Pioneer S-DJ60X (6-inch, black) $199 U.S. each
Pioneer S-DJ50X (5-inch, black) $149 U.S. each
Pioneer S-DJ50X-W (5-inch, white) $149 U.S. each
Look for more details at: www.pioneerelectronics.com.