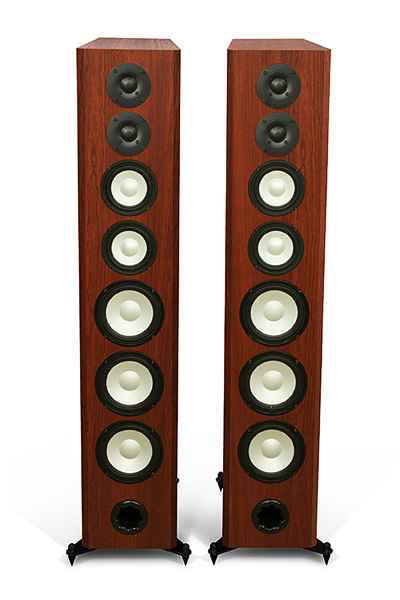 For more than two decades, Axiom's very well respected M80 tower speaker sat at the top of the company's speaker range.  But now there's a new flagship floorstanding speaker in town – called the M100, which will compliment the successful existing M60 and M80 models.  Axiom says that its primary design driver for the M100 was the increasing interest in 2-channel music listening as the "generation that grew up on fast-and-easy mp3 downloads is discovering the pleasure of playing an entire album and hearing nuances that low-fi earbuds just can't replicate".
The M100 speakers, which boast an impressive array of two 1-inch tweeters, two 5 ¼ -inch mid-woofers, and three 6.5-inch High Power woofers, promise stunning dynamics with powerful bass, giving stereo listening a three-dimensional soundstage. The 7-driver array has power handling up to 400 watts RMS and 800 watts peak.
The M100s feature die-cast frames with every component, including the tweeters, and incorporate Axiom's latest crossover technology for a larger and more natural sound stage presentation. They take advantage of many technological changes the company has developed in the last 18 months, including the new high-powered drivers that allow the speakers to take more power than ever, a must in today's large great rooms. The company recommends that the speakers' 4-ohm load be matched with high-powered amplifiers like the ADA series of digital amps they released last year.
The speakers are available in a standard Boston Cherry or Black Oak finish, but they can be custom ordered in one of over 100 finish options. Also available as options are carpet spikes and outriggers. As with all Axiom loudspeakers and amplifiers, the M100s are manufactured in the company's factory in Muskoka, Ontario, Canada.
The product's beta release in the fall saw many M80 owners upgrading to the new speakers. The reaction was unanimous: the speakers have immediately noticeable improvements, especially in the bass department.
The M100s cost $2,825 CDN per pair, including free delivery anywhere in the US or Canada.
For complete details including a video tour of the speaker, and frequency and impedance graphs, please check out http://www.axiomaudio.com/m100-floorstanding-speakers