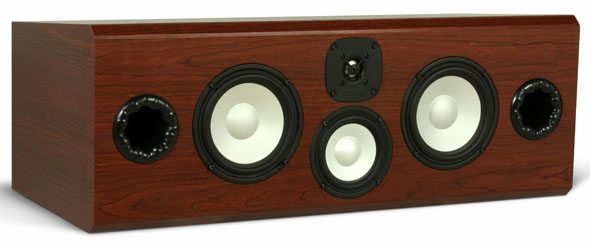 Canadian manufacturer Axiom Audio has added a new "monster" center channel speaker to its comprehensive center channel speaker lineup. The new VP160 Center Channel features and innovative center speaker design that takes its cue from the M60 tower speaker, one of Axiom's most popular products.
Designed to place dialog right in the center of the action, the VP160 Center Channel features the same 6.5-inch woofers, 5.25-inch mid-woofer, and 1-inch titanium tweeter as the M60 tower speaker. Using the same drivers gives the listener a seamless soundstage across the front array.
In order to match the kind of serious output the M60 floor standing speaker can provide, Axiom had to build a "monster" center channel. The VP160 weighs in at an impressive 43 pounds: not for the faint of heart! Because of its significant weight, the company does not recommend wall-mounting the speaker. Instead, they suggest putting it on a shelf or the dedicated FMS 160 stand (available on the Axiom website). Also included in the speaker are two signature vortex ports – corrugated ports exclusive to Axiom Audio that eliminate port noise – which allow even greater sound output from a smaller cabinet.
By emphasizing the practical application of their ongoing research, Axiom brings unprecedented value to the marketplace, expanding on its ethos of high-end, high value sound with the VP160 Center Channel Speaker. The product is priced at $570, including shipping anywhere in North America (even Alaska and Hawaii). It can be special-ordered in an inverted configuration for low placement under the video display (angling the sound up towards the listener) or in an in-cabinet version, for customers who are doing a built in wall of sound in their installation. The product can be shipped anywhere in the world that FedEx travels, and international pricing is available on Axiom's website.
Like all Axiom products, this speaker can be customized to suit almost any décor. Axiom offers 2 standard finishes (Black Oak and Boston Cherry), as well as over 100 customized finish options. If customers need a stain or finish that Axiom doesn't carry, the company can match a paint sample or wood sample to make a truly customized speaker. All the speakers are built to order in the Axiom factory in Dwight, Ontario, Canada.
One of the members of the Research and Development team, Debbie Swinton, offers a 'first look' video of the VP160 Center Speaker on the company's video center, at http://www.axiomaudio.com/videocenter.html
For more info, please visit www.axiomaudio.com