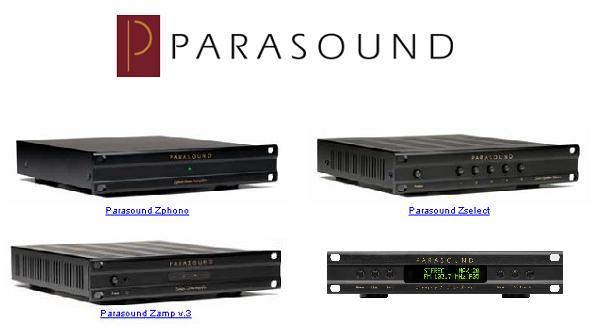 Parasound has just recently added four new components to their popular Parasound Z series of compact components.  The new matched mini-components are all just a single rack space tall and only 9-1/2 inches wide – half the width of a conventional audio component.  These new mini-components replace Parasound's earlier Z-series models.  Included in the release are: 1) Zphono phono preamplifier; 2) Zselect loudspeaker selector 3) the Zamp v.3 stereo power amplifier and; 4) Ztuner FM/AM tuner.
Parasound 's Zphono MC/MM phonograph preamplifier addresses the lack of phono inputs on most modern audio components, without which it is impossible to play LP records on a turntable. The Zphono is a high-quality phono preamplifier gain stage with accurate RIAA equalization.  Zphono gain is switchable for both high-output moving magnet and low output moving-coil phono cartridges; its output is compatible with the standard line-level audio inputs used on all audio components.
The Parasound Zselect loudspeaker selector provides direct high-power connections and switching for up to five remote speaker systems in situations where there are an insufficient number of speaker outputs available on audio receivers and amplifiers. For custom installers and homeowners, Zselect makes it possible to provide multi-room sound without the complexity and cost of some advanced home automation systems. It also protects the output stages of power amplifiers with a switchable protective load when multiple speakers are selected.
The new Parasound Zamp v.3 is a high quality and powerful stereo power amplifier capable of 45 watts per channel into an 8-ohm load. The amplifier's small size makes it ideal for unconventional and space-limited applications, including multi-room/multi-zone installations, PC and desktop audio, and bedroom or den stereo systems.
The Ztuner is a high-quality FM/AM tuner with a wide array of features that make it ideal for custom installation and multizone applications. It features high sensitivity FM and AM tuning circuitry, and advanced capabilities such as bidirectional RS-232 control, looping IR remote, and 12 Volt trigger inputs and outputs. Direct frequency tuning is available via remote control and through the rear-panel RS-232 port. The remote control is assignable for up to four distinct zones, allowing for multiple Ztuners to operate independently of one another in the same system.
The Parasound Z components incorporate new styling that express their build-quality.  Each Parasound Z series component includes EIA rack mounting holes for mounting in a standard 19-inch professional equipment rack. An optional blank adaptor panel can be used to mount a single component in a rack, or an optional SBS side-by-side adaptor kit attaches two components together in one rack space. Each model also includes no-mar isolation feet for standalone use on a shelf.
All four new Z-series mini-componenents are currently available at the following MSRP:
Zphono: $150 U.S.
Zselect: $130 U.S.
Zamp v.3: $300 U.S.
Ztuner: $300 U.S.
For more information, visit www.parasound.com.