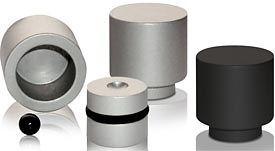 German high-end audio product manufacturer, finite elemente, has just expanded on its Cera sound isolation product series with their new Ceraone line. The new Ceraone line is positioned as a more affordable high-value product in the Cera series.
Based on finite elemente's CERA technology, the 26 mm high component feet for HiFi components are purported to "draw off" unwanted resonance directly where it evolves. Ceraone has been designed for use with products of up to 250lbs. The advantage is said to be that of no resonance accumulation, no "over-damping" and therefore, no loss of sound – with better resolution, better soundstage, better dynamics, and better music.
The Ceraone line is made in Germany to exacting standards. Ceraone comes in a convenient set of 4 pieces, in silver or black anodized aluminum and is currently available at a MSRP of 99 Euros, per set. North American pricing is currently unavailable.
For more details, look to: www.finite-elemente.de/en