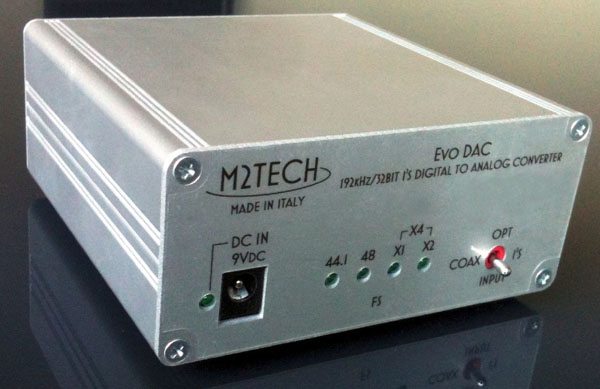 TEAC, the Canadian distributor for Italian manufacturer M2Tech, has just announced two new M2Tech components – the EVO DAC and EVO Clock generator.
The EVO DAC is a cost effective digital to analog converter using the same form factor as the successful Hi Face EVO. M2Tech has carefully paired the EVO with the latest Burr/Brown decoding chip sets. This interface communicates with the EVO DAC utilizing the I2S or S/PDIF.
Evo DAC Features :
-32 Bit Burr /Brown Chip Set
-192kHz 32 Bit using I2S interconnection
-192kHz 24 Bit using S/PDIF interconnection
-96kHz 24 Bit  using Toslink Optical 
-For greater performance use the external EVO Power Supply
EVO Clock is a Master Clock generator providing accurate low Jitter performance. When used with the HiFace EVO and EVO DAC inter-component Jitter is reduced yielding pristine audio performance.
Evo Clock Features :
-Two Clock outputs to drive the EVO DAC , @ 22.5792MHz or 24.576 MHz.
-Can be used for other audio devises ,supports up to 384 kHz.
-Selectable "Super Clock" @ 128x and 256x of the base frequency.
For more info, please visit www.m2tech.biz.  M2Tech products are distributed by TEAC Canada, tel: 905-890-8008.