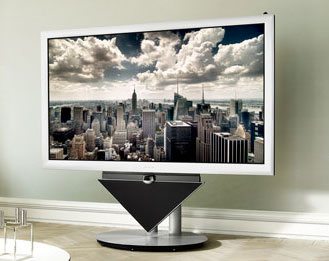 Want more "bang" in your media / rec. room? Bang & Olufsen (B&O) has just introduced the BeoVision 4-85, their first 3D TV display, which has everything going for it in terms of size.
The 85-inch plasma HDTV has a native screen resolution of 1920 x 1080 and utilizes 3D technology that requires the use of active-shutter 3D glasses. An anti-reflective coating is employed to aid viewing in bright environments, along with several automatic picture controls that adjust the luminance output depending on ambient lighting conditions.
The BeoVision 4-85 plasma 3DTV features a BeoLab 10 dedicated centre speaker. The BeoLab 10 can used with other Bang & Olufsen speakers for a surround experience.
The B&O BeoVision 4-85 is available either with a motorised stand, or as a screen-only wall-mounted solution.
North American pricing and availability is yet to be announced. Some European sources are quoting a price of 70,000 euros for the TV plus motorised stand, or 51,000 euros for the wall-mounted version.
Look for more details at: http://www.bang-olufsen.com.