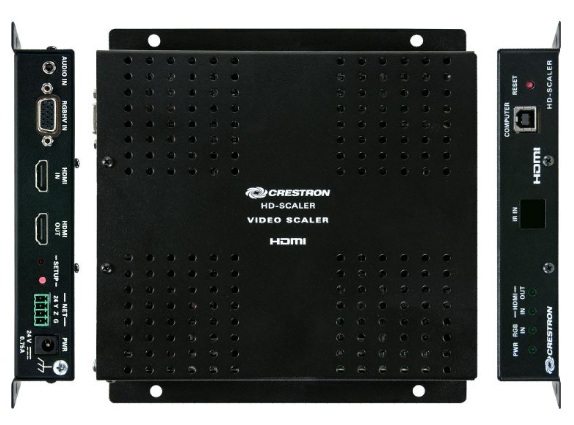 Home theatre enthusiasts looking to achieve the best possible resolution on their TV or projector will definitely want to take a look at the new Creston HD-SCALER High Definition Video Scaler, the latest addition to the company's line of high performance standalone HDMI audio/video solutions.
The HD-SCALER fills the void left by the inadequate scalers that are built into most displays and are not designed to display all different resolutions and formats in today's digital environments. The affordable and easily installed HD-SCALER connects to the HDMI or DVI input of any video display and ensures that every video source appears reliably, correctly and optimally, regardless of the display's native resolutions.
The HD-SCALER handles standard and high-definition video sources with resolutions up to 1080p60 progressive and 1080i30 interlaced, as well as computer sources up to UXGA 1600×1200 and WUXGA 1920×1200. Whatever the source, the HD-SCALER is capable of scaling it up or down, while adjusting aspect ratios to match the native resolution of any video display or computer monitor.
HD-SCALER is ideal for adding digital connectivity and scaling to existing analog systems. Through a single VGA cable, HD-SCALER connects directly to the output of a Crestron MPS Media Presentation System or QuickMedia receiver, converting every analog video signal to HDMI and scaling the output to feed a high-definition digital display or projector. Analog audio is converted similarly through a simple stereo audio cable.
In addition, digital audio signals are seamlessly distributed across a single HDMI cable. Exclusive "audio breakaway" capability allows combining analog audio with digital video from an HDMI or DVI source, embedding both analog audio and digital video signals into one HDMI output.
Designed for simple set-and-forget operation, the compact, low-profile design allows HD-SCALER to be mounted discreetly behind a flat panel display, above a ceiling projector or in back of an equipment rack. For more advanced setup and diagnostics, an intuitive on-screen display makes it easy. Scroll through menus and navigate the OSD using the included IR remote.
For more info, please visit http://www.crestron.com/HDMI.