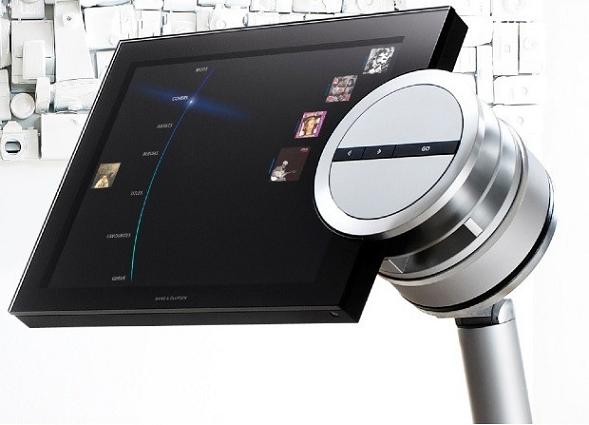 Bank & Olufsen (B&O) has just launched their new BeoSound 5 Encore, which sits as the little brother to their BeoSound 5. The BeoSound 5 Encore is a digital music system that allows for easy navigation of a digital music library and access to internet radio stations. With consumers growing digital music libraries comes the need for an easy plug-n-play solution to navigate and access these collections. The BeoSound 5 Encore is B&O's answer to that need, incorporating a graphical user interface and promised simple operation. It can be used as a stand-alone audio system or in a multi-source/multi-room application.
BeoSound 5 Encore offers easy access to more than 13,000 internet radio stations from all over the world, and with every possible genre and language represented. B&O continually monitors and updates the stations, to ensure quality.
The BeoSound 5 Encore can also browse and play music from multiple sources, such as: a connected hard disc, a NAS server, a computer, a USB stick or a handheld device and supports music in lossless quality.
The BeoSound 5 Encore can enable the user to simplify their physical, CD-based music collection. With the Encore connected to B&O speakers, it can work as your primary music system connected to the internet (either wired or wirelessly) with access to internet radio and music on a server, or a USB connected hard disc. Additionally, it can also act as an access point for your secondary music devices.
Up to eight Encores can be connected to the same server, with the added benefit of being able to play different music content in different rooms at the same times
BeoSound 5 Encore features a 10.4″ full graphical display and a magical wheel that easily scrolls through even the greatest of music collections at the spin of a finger. With a number of different options for wall, table or floor placement, BeoSound 5 Encore will easily fit into any home decor. Additionally, it has been specially designed with permanent sockets hidden for concealed and elegant cabling. Also, sockets for temporary devices such as USB sticks, portable players or headphones are easily accessible below the display.
The Encore incorporates B&Os patented MOTS 'More of the Same' algorithm, which captures the unique musical identity of a track and then builds a playlist of similar music — based on parameters such as sound, dynamics, and rhythmic aspects of a particular track. MOTS automatically generates a playlist when the user accesses the content of a USB or WLAN/LAN connected device. Additionally, the customer can select a particular favorite playlist offered by MOTS, by simply saving the track initially selected, and then the customer can listen to the specific playlist whenever desired.
With the new software comes the possibility for smartphone users to push content wirelessly onto their BeoSound 5, allowing the customer to browse music content directly on via the BeoSound 5 interface, while enjoying it through connected B&O loudspeakers. Customers who own an Apple device such as an iPhone, iPad or iPod touch can also benefit from the new BeoSound 5 software update.
The B&O BeoSound 5 Encore is available this August 2011 for $3,350.00 U.S.
For more information, please see: www.bang-olufsen.com