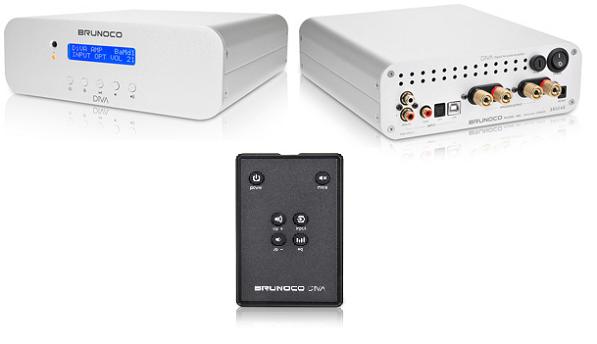 Brunoco Audio Inc., based out of Vancouver, Canada is set to launch their new DIVA digital integrated amplifier 24bit / 192kHz DAC.  DIVA takes a SACD quality music source that is delivered by a computer, iPod/iPhone, CD player, set-top box, etc. via a digital input and processes the signal using a state-of-the-art DAC up to 24bit/192kHz.  Once processed, the signal is then digitally amplified in a pure digital format until it is finally converted to an analog waveform, just before reaching the speakers.
The DIVA has been is equipped with proprietary digital technology that is meant to enable the compact amplifier to be able to drive demanding modern speakers. Also integrated in the process is powerful 24 band digital equalizer, which can cater to the users musical preferences like classical, jazz, rock, theater, etc. as well as for near field listening, room adjustments etc. Since the digital equalization is applied in a full digital manner, it promises not to contaminate the original signal.
The 24 volt external linear analog power supply is used, rather than a SMPS (switching mode power supply), to ensure musicality. A separate transformer supplies current to the circuit and oversized reservoir capacitors are used to ensure rich, pleasant sound.
DIVA will be available to purchase through the Brunoco website in September 2011 at an expected MSRP of $800 CDN.
Look for more details at: www.brunoco.ca.