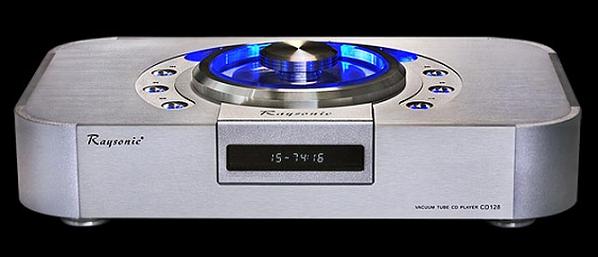 Raysonic, a Canadian (Toronto) based audio product company, has just introduced their new CD128D (image is of the current CD128). The CD128D leverages the current CD128 models design but incorporates new digital connectivity features i.e. a USB and digital input, to meet the growing trend in digital based music.
The Raysonic CD128D has been styled to achieve both a modern and elegant appearance. Build quality continues to be a focus of Raysonic, with the objective of meeting or exceeding current competitive audiophile products.
The CD128D strives to raise the bar in term of performance in the areas of musicality, clarity, natural warmth and dynamic contrast.
Features:
•Full balanced Top Loading CD-Player.
•Real class-A triode vacuum-tube output stage for single-ended & balanced operation.
•Vary compact output buffer.
•4 x 6922EH triodes tubes-Russia.
•Ceramic tube sockets.
•Warm up function-extends tube life time.
•Upsampling 24bit/192kHz.
•1 piece of AD1955 decoder.
•Input (digital, USB, AES/EBU) for digital sources.
•Output (digital, AES/EBU)
•2 Analog output ( RCA & XLR )
•Suspension system to isolate the CD-transport from vibration.
•Mundorf Mkp capacitors.
•Solen-mkp capacitors.
•Large noiseless C-core power transformer.
•Mirrored display glass.
•Display dimmer, mute function.
•Fully hand assembled to insure the highest level of craftsmanship.
•Metal remote control.
•Crafted high grade 8mm aluminium brushed and anodized chassis: black or silver.
The AD1955 decoder used in CD128D is a complete, high performance, single chip stereo digital audio playback system comprised of a multi-bit sigma-delta modulator, digital interpolation filters and a continuous-time differential current output DAC section.
Specifications:
•Vacuum Tubes: Russia 6922EH x 4.
•Conversation Rate: 24bit / 192khz.
•Output Complement: RCA & XLR
•Output Level: RCA 0-2 V ,XLR 0 – 6.4V.
•Frequency Response: 20Hz — 20KHz, -0.2dB.
•S/N Ratio: >100dB.
•Distortion: 0.003%.
•Dynamic Range: 102dB.
•Output impedance Single Ended RCA-50 ohms.
•Output impedance Balanced XLR-150 ohms.
•Digital output: AES/EBU, Toslink, S/P – DIF RCA
•Digital input: USB, AES/EBU, Toslink, S/P – DIF RCA
•Power consumption: 30 watts.
•Remote control : Yes.
•Dimensions: 48L x 30W x 13H (cm).
•Operating Voltage: 100-120VAC. 50Hz/60Hz (220-240VAC 50Hz/60Hz).
•Weight: 11kg.
Look for more details at: http://www.raysonicaudio.com