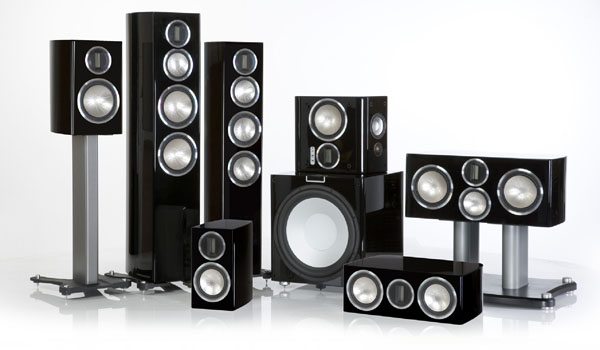 The new Monitor Audio Gold GX is a completely new 'ground up' design featuring advanced driver technologies and materials, amalgamated to form a real world, yet truly esoteric speaker range.
Attention to detail is evident in every component part, being made from only the finest materials, cast and machined to exacting tolerances. All cabinets are hand built using multiple laminations of MDF, and then hot pressed to form a rigid shell. Whilst being incredibly rigid, and as a result stronger, the curved panels also reduce standing waves, eliminating un-wanted sound from being reflected back. The result is a perfect, life-like midrange character, without a hint of unwanted resonances.
Radial internal braces, aided by single bolt-through driver technology enhance cabinet rigidity by providing additional front to back bracing, whilst maintaining consistent tension for the driver. This in turn reduces excessive vibration from the driver and cabinet together, ensuring lower coloration across the entire frequency spectrum.
Developed from the renowned C-CAM material, the new ribbed RST cone profile has been developed to give incredible rigidity and lowest possible mass, resulting in a stiffer cone and significant reduction in break up modes, exhibiting a much purer sound overall.
Sturdy die-cast alloy chassis have been designed with improved venting properties to keep the driver cool as well as reduce internal pressure, with the ability to play louder and with lower distortion than previous driver designs. HiVe port technology is employed for better transient response and tighter bass – due to smoother air-flow.
The newly design C-CAM Ribbon H.F (High Frequency) transducer has been employed to propel high frequencies to well beyond 60 KHz, at least two octaves beyond the threshold of human hearing. This means subtle nuances and harmonic content present in high definition 24 bit/192KHz recordings to ensure the full audio experience is faithfully conveyed, as intended. The ribbon transducer possesses no break up modes, so the sound is crystal clear without a hint of distortion and is far superior to any dome tweeter design ever produced. Ribbon technology is much different and since there is no voice coil, the moving diaphragm is incredibly light, responding instantly to the smallest level of detail.
Not happy with manufacturer specifications, Monitor Audio engineers spent many hours evaluating and listening to crossover components, selecting those in the end which simply sound the best. Polypropylene film capacitors, air core and laminated steel core inductors have been utilized to maintain the best possible signal integrity. Each crossover is then mounted on a separate panel which is accessible from the underside of the speaker. High quality gold plated terminals are easily accessible and mounted to a very sturdy die-cast alloy terminal panel,  placed low down on the cabinet to make placement and connection simple, particularly on the floor-standing models. Silver plated cable is used for bi-wire links with spade terminations to ensure very low contact resistance and the best possible contact reliability.  Pureflow silver internal cabling insures best signal conductivity.
Beautiful Piano finish cabinets feature no less than 11 layers of lacquer with painstaking hand polishing to obtain the perfect mirror shine, whilst the real wood finish cabinets are hand veneered after the cabinet is made using very traditional craftsmanship; this ensures precise grain matching on every pair. The beautiful grain definition and rich color variations of Bubinga and modern Walnut blend with any interior style or décor.
Stylish magnetic grilles have no visible fixings and provide clean overall visuals, adding to the simplicity and refinement of the classy overall appearance. Base plinths for the GX200 and GX300 are die-cast from metal alloy to provide a very sturdy and rigid foundation. Machined metal adjustable spiked feet are used on the GX200/300 and floor-stand, hand milled to meticulous quality standards. Solid 'bullet' spikes are also hand machined from hi-tensile steel and chrome plated to a fine finish for use on carpeted floors. Non slip rubber pads are provided for use on hard or solid wood flooring.
Finish Options:
Dark Walnut, Bubinga, Piano Black Gloss, Piano White Gloss (GX50 only, other models available by special order)
Canadian MSRPs:
GX 50                    $1995.00 pr
GX 100                  $2495.00 pr
GX 200                  $4995.00 pr
GX 300                  $5995.00 pr
GX-150-C               $1195.00 ea
GX-350-C               $1895.00 ea
GX-FX                    $1195.00 ea
GXW-15                 $3195.00 ea
GX Stands              $595.00 pr
Monitor Audio is distributed in Canada by Kevro International Inc (www.kevro.com), 905 428 2800.  For more info, please visit www.monitoraudio.co.uk.