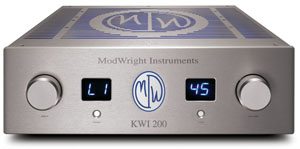 ModWright is planning to release a new integrated amplifier this October. The new integrated is named the KWI 200 and will be a 200wpc stereo unit that leverages the casework from the KWA-100SE/LS-100 but with dual digital displays and pure solid-state circuitry.
The KWI 200 will include both a HT bypass and preamp output. The front panel will include relays for input selection as well as front panel knobs. The volume control is a digitally controlled analog volume control that allows for different gain and attenuation for each input. As an option, a MM/MC phono stage as well as a digital coax/USB DAC can be added.
Pricing is expected to be $5.000 CAD.
Look for more information at: www.modwright.com