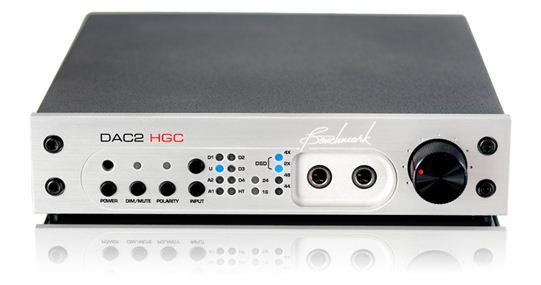 Benchmark Media Systems, has just annouced a successor to their well-respected DAC1 family – the DAC2 HGC.  This new DAC2 HGC is a new reference stereo preamplifier with headphone amplifier and PCM/DSD D/A converter.
The DAC2 HGC packs more processing power and features than the former DAC1 but maintains a similar size / style.  Under the hood, eight balanced 32-bit D/A converters are summed together to form a pair of balanced outputs. DAC2 HGC supports 24-bit/192kHz PCM as well as native DSD conversion. Other features include sample rate and word length display, UltraLock2 jitter attenuation, asynchronous USB Audio 2.0, polarity switch, home theater bypass, bi-directional 12V trigger, additional analog and digital inputs and outputs, digital pass-through, and high-efficiency low-noise power supplies.
Benchmark is introducing Hybrid Gain Control (HGC), a system that combines active analog gain control, passive low-impedance attenuators, a 32-bit digital gain control, and a servo-driven volume control. These components are combined to maximize dynamic range while minimizing distortion.
The DAC2 HGC can be used in conjunction with any home theater or audio system. It can connect to a wide array of devices: iPad, music server, laptop, desktop computer, PS3, XBOX, digital cable box, HDTV, Blu-ray/DVD/CD player, Squeezebox, FM tuner, phono preamp, VCR, etc.
Benchmark will be showing demonstrations of the DAC2 HGC at Rocky Mountain Audiofest in Denver, Colorado on October 12-14. Benchmark will also be demonstrating the DAC2 HGC at the 2012 Audio Engineering Society convention in San Francisco, California on October 26-29.
The new DAC2 HGC will be available with either black or silver faceplates, beginning October 19-2012 at a MSRP of $1,995.00 U.S.  Look for more details at: www.benchmarkmedia.com.