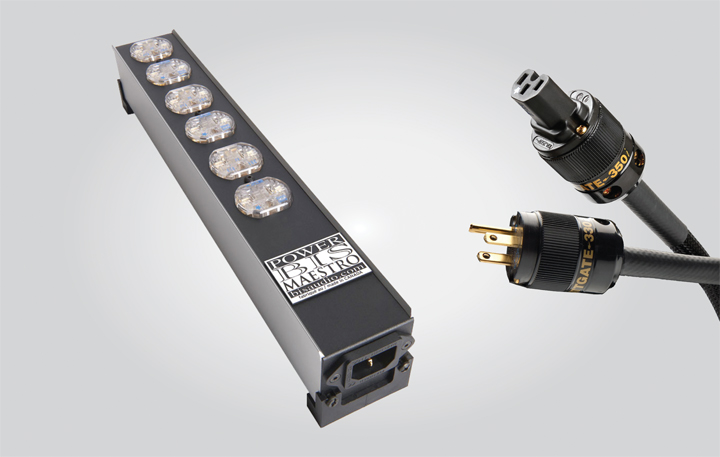 Some people think that upgrading their A/C power bars and power cords is like asking for a wine list at an inner-city bowlerama: a pointless waste of time and money. To my ears, audiophile power cables, A/C filters, and power regenerators do several things to varying degrees: 1) they lower the noise floor; 2) they energize a system, increase the dynamics, and improve the PRaT; and 3) they make music reproduction systems sound more lifelike.
Investing in a higher quality power bar and an A/C cord feeding the power bar shouldn't push a budding audiophile towards the brink of bankruptcy. Mercifully, Quebec-based BIS Audio has unleashed a number of budget conscious A/C solutions.
Product Description
Available with either six or eight female outlets, BIS' PowerBIS eight outlet Maestro A/C power bar retails for $1,009 US. The eight outlet Maestro is 16" long x 2" high x 2" wide. Its thin dimensions make it easy to fit behind audio racks.
Audiophiles are drawn to big, shiny, and carbon-encased A/C power regenerators in the same way that al Qaida recruits are magnetically drawn to monkey bars. My Heavens… they love those monkey bars!
Aiming more for improving the sound quality than an obnoxious bling factor, the aesthetics of BIS' Maestro A/C power bar and AC20WG power cord are appealing in an understated way. The Maestro was engineered around 3 criteria: 1) high conductivity; 2) mechanical sturdiness for long-term reliability; and 3) to impart ZERO sonic signature and sound as neutral as possible.
My 8-outlet Maestro review sample featured four Wattgate audio grade 381 EVO Au (gold) receptacles which use Wattgate patented 3-layer gold plating process on all electrical contacts. To minimize mechanical resonances, the interior of the Maestro's chassis is coated with proprietary "asphalt based" dampening material. To nullify A/C line ring, crackling, and wall-wart transformer vibrations, BIS have also added a non-current limiting "parallel circuit" to this power bar.
The latest generation Furutech IEC socket that's built into the Maestro was designed to accept the 10-gauge internal copper (Cu) wiring that BIS believes vastly improves the power bar's sound quality.
My review sample of BIS Audio's 1.8m AC20WG 15 Amp power cord ($579 US) was terminated with Wattgate audiophile plugs on the both the male and female ends.