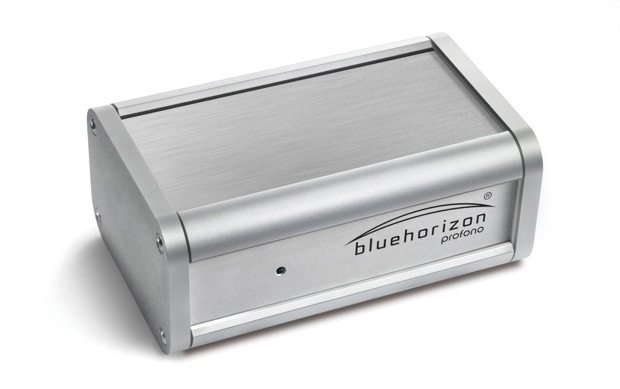 Blue Horizon has announced their new affordable Profono MM/MC phono preamplifier. The Profono is a discrete analogue turntable cartridge amplifier that is installed between your turntable and pre-amplifier / integrated amplifier.
Blue Horizon claims they have carefully selected premium-grade components and materials that are used throughout the Profono. For example, cheap 'dip switches' typically found in low-cost phono preamplifiers, are not used in the Profono but rather a unique system of plug-in shunt resistors is utilized to set input impedance accurately. The plug-in shunt resistors are also claimed to be superior to capacitance loading switches, which tend to affect the purity of the signal and be susceptible to RFI.
The interchangeable shunt resistors plug into a pair of RCA sockets on the Profono's rear panel. Three sets are included as standard, rated at 100 ohms, 470 ohms and 1,000 ohms respectively (default cartridge loading with no shunt resistors inserted is 47k ohms). Furthermore, if the user requires an alternative input impedance to suit a specific cartridge, Blue Horizon will custom-build a pair of shunt resistors upon request to match this loading precisely — simply register the product, specify the impedance and a bespoke pair of shunt resistors will be delivered to the registered address. This service is unique to Blue Horizon and helps to ensure the best possible sound quality with any given phono cartridge.
On the Profono's rear is a toggle switch giving three settings for cartridge gain: moving coil low (50dB), moving coil high (61dB) and moving magnet (41dB).
Profono sports a cleverly designed all-aluminium case, with individual corner extrusions holding the aluminium panels together, ensuring a tight, rigid and reliable construction that is quick and efficient to manufacture.
To minimize noise and distortion, the Profono's power supply unit (PSU) is housed separately and connected via a detachable cable. PSU upgrade options will be available at a later date, for those who wish to attain an even higher level of performance.
Profono is the latest in a growing range of cleverly designed and perfectly formed high-performance audio accessories from Blue Horizon. Other products made by the company include the uniquely constructed Blue Horizon Record Mat and Blue Horizon Spike Shoes, an ingenious turntable levelling device called Prolevel, a highly effective contact enhancing solution known as Clean-IT, a record cleaning brush called Probrush and the remarkable Proburn cable burn-in machine.
The Blue Horizon Profono phono preamplifier is available beginning in April 2012 in black or natural aluminum finishes for £695. North American pricing has not been announced.
Look for more details at: www.bluehorizonideas.com.