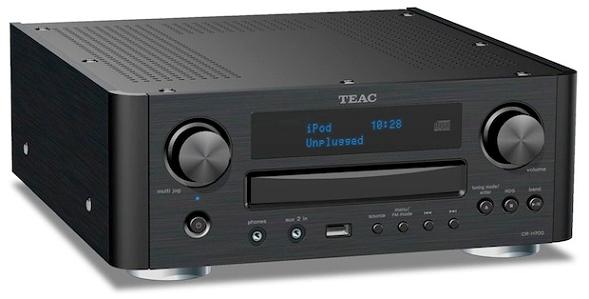 TEAC has announced their new Reference Series CR-H700i DAB network CD receiver. The CR-H700i is a one-box audio solution combination CD player; 40-watt amplifier; FM/AM/DAB/ internet radio player and Airplay streaming device. With AirPlay, the CR-H700i can provide a hi-fi audio solution with Apple Macs, PCs and iOS devices. In addition, the CR-H700i provides for CD playback through it's integrated CD player and even allows for connection of a turntable for vinyl playback, via it's integrated phonostage. Playback of music files on a computer hard drive or NAS storage via a wired (Ethernet) or wireless (wi-fi) connection is also an option. iPods and USB drives can be connected using the fascia-mounted USB socket where MP3, WMA, WAV, AAC and FLAC files can be decoded and enjoyed. A USB lead is provided for iPod use.
Based on TEAC's CR-H500NT platform, the CR-H700i network CD stereo receiver provides a 40 watts amplifier and access to radio stations through AM/FM and DAB bands, together with internet radio using the vTuner service. The CR-H700i also allows for connection of other source devices via its rear RCA inputs. It also features headphone and subwoofer outputs in addition to a standard RCA output.
Internally, the CR-H700 benefits from TEAC's advanced audio engineering and high-quality component selection, which includes a Burr-Brown 24-bit DAC. Featuring brushed aluminum front and side panels, aesthetics aim to please the discerning consumer. A remote control is supplied and Airplay users can enjoy their music collection in full using their iOS devices. Further features include a clock, timer on/off and sleep function, a dimmable display and preset function.
Specifications:
– Stereo CD receiver CR-H700/700DAB
– 40W + 40W (6 ?, 1 kHz, 0.5 % THD)
– Functions: CD, iPod/USB, Tuner, Network, AUX1, AUX2, Phono
– Apple AirPlay and DLNA Compatible
– 24bit/192kHz Delta-sigma D/A Converter
– Supports CD, CD-R/RW, MP3 and WMA discs
– iPod/iPhone/iPad Digital Audio Connection via USB cable
– MP3/WMA/WAV/AAC/FLAC Decoding from USB Memory
– Discrete Amplifiers
– Program CD Play, Repeat (1/ALL), Shuffle Play
– AM/FM/Internet-Radio RDS Tuner (DAB/DAB+) with Preset Station Memory
– Fluorescent Display with Dimmer
– Clock, Timer-on/off, Sleep Timer
– Remote Control (also controls iPod functions incl. menu operation) RC-1286
– Audio Input: x 3 (RCA x 2, Stereo Mini x 1)
– Audio Output: x 1 (RCA)
– Subwoofer Preout: x 1 (RCA)
– Headphone Jack: x 1 (Stereo Mini)
– USB Port: x 1
– Ethernet Port: x 1 (RJ-45, 10Base-T)
– Wireless LAN: x 1 (IEEE802.11b/g)
– Speaker Terminal: Binding Post
– Operation: 230V AC, 50Hz
– Dimensions (W x H x D): 290 x 113 x 338 mm
– Weight: 5.4kg
– Brushed Aluminum Front and Side Panels
– Colors: Black
The TEAC Reference CR-H700i DAB is available for £449.99 in the UK with North American pricing and availability, yet to be announced. Look for more details at: www.teac.com.