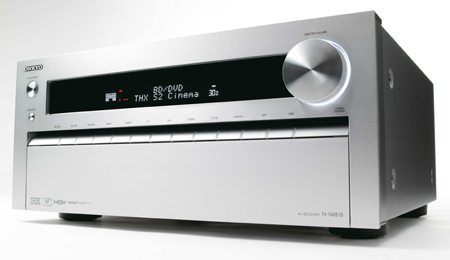 Onkyo has just announced the release of two new, feature-packed THX-certified home cinema receivers – the TX-NR717 7.2-channel Network Receiver, and the more powerful TX-NR818 7.2 Channel Network Receiver.
The TX-NR818 comes equipped with Audyssey MultEQ XT32 room acoustic correction and DTS Neo:X, Dolby Pro Logic IIz and Audyssey DSX. DTS Neo:X incorporates Front Wide or Front Height channels.
The TX-NR717, meanwhile, features Audyssey DSX for Wide Channels and Dolby Pro Logic IIz for Height effects, as well as multi-channel expansion of stereo sources.
Another new feature for smartphone users is the front-panel Mobile High Definition Link HDMI port that's provided on both models. This allows users to connect and play high-resolution media stored on compatible smart phones with up to seven channels of surround sound.
Onkyo is also first to market with InstaPrevue technology, which displays video thumbnails of available content on HDMI connected devices, simplifying switching between HDMI sources.
The TX-NR818 incorporates an exclusive "dual core engine" with HQV Vida VHD 1900 video processor for smooth and accurate 1080p upscaling, supported by Marvell's 4K video processor with powerful Qdeo technology. Qdeo technology – which can upscale 1080p video to four times that resolution – is featured on both models for users that have, or plan to have, a 4K display. Additionally, the TX-NR818 offers video calibration to ISF (Imaging Science Foundation) standards, so the user can enjoy breathtaking TV picture quality.
Both receivers earn THX Select 2 Plus certification with enhancements to Onkyo's well-established WRAT amplifier technology. Distortion is all but eliminated by the use of three-stage inverted Darlington circuitry, with power supplied by a massive high-power transformer. Both units feature Burr-Brown 192 kHz/24-bit DACs on all seven channels. The TX-NR818 has PLL jitter-cleaning circuits to further improve signal quality, as well as physically separated power amp and pre-amp blocks.
Both receivers have eight HDMI inputs (one front, and seven rear) and two outputs. The HDMI implementation enables full 3D video support, as well as DTS-HD Master Audio and Dolby TrueHD audio decoding. The receivers feature an Audio Return Channel over HDMI, allowing the playback of broadcast TV with surround sound. Onkyo's high-resolution GUI (Graphical User Interface) offers an overlaid 'Quick Setup' menu that provides access to frequently used settings, ideal when you feel the need to tweak a setting in the middle of a programme or movie.
Users will find that Onkyo's home networking execution is reliable and hassle-free, with online sources that are easy to set up and fast to access. Users can connect using a standard ethernet cable, or add an optional UWF-1 Wireless LAN Adapter to the rearside USB port, leaving the front-panel USB free for an iPod, iPhone, or flash memory device.
As well as a huge selection of internet radio channels, and music streaming options from the likes of Spotify and Simfy, users can enjoy their personal cloud-based music collections via MP3tunes with powerful home cinema sound. Ethernet connectivity also enables the playback of music from PCs or media servers, as well as simplifying the process of downloading firmware updates.
With the TX-NR717 and TX-NR818, have the ability to send audio to up to three rooms via dedicated line-outs, or by allocating surround channel loudspeaker outputs for the purpose. Audio signals can be sent to stereo speakers in Zones 2/3, with Zone 2/3 line-outs available for further distribution. Users can control playback in any of those rooms – along with all major home cinema settings – from anywhere in the house using an Onkyo remote app for iPhone or Android phone.
While both receivers include a huge selection of digital and analogue A/V connections and offer front-channel bi-amping, the TX-NR818 also boasts a differential DAC arrangement that assigns two DACs for each front channel, as well as a unique new onboard Digital Crossover Processing Network to cancel frequency interference when bi-wiring the front monitors.
In the coming months, Onkyo will introduce its UBT-1 USB Bluetooth Adapter to significantly upgrade the ability of its network receivers to interact with a wide variety of hand-held electronic devices. There will also be a new iOS remote control app that will enable music streaming from an iPod/iPhone to an Onkyo network receiver.
The Onkyo TX-NR717 MSRP is $1049 CAD and TX-NR818 MSRP is $1,349 CAD. Both receivers will be available in black or silver beginning in May 2012. Look for more details at: www.onkyo.com.