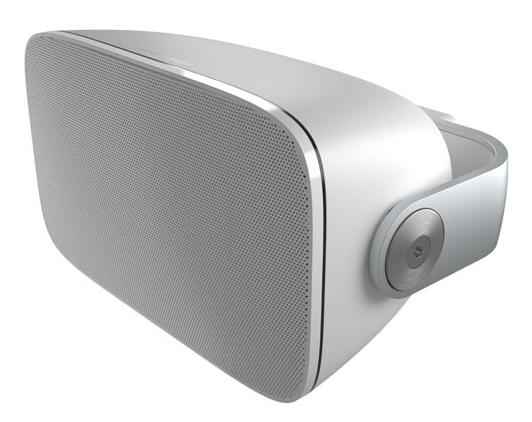 Bowers & Wilkins has just introduced a new 'weatherproof' loudspeaker named simply as the AM-1.  This new indoor/outdoor speaker has been designed to provide high-performance audio in an incredibly resilient and versatile package.  
The AM-1 is a two-way design that features an inverted drive unit configuration, with a 1-inch (25mm) aluminum-dome tweeter mounted below rather than above a 5-inch (130mm) glass-fiber bass/midrange driver.  The driver arrangement is to ensure optimal dispersion of sound when the speaker is mounted high on the wall.
Low frequencies are given extra support by way of a rear-mounted auxiliary bass radiator (ABR).  Used instead of a conventional bass reflex port, the ABR allows for enhanced bass response given the size of the enclosure.  Plus, the ABR, unlike a port, seals the enclosure from outside elements, including little critters, while still allowing for higher bass efficiency.  
The AM-1 with its cast aluminum wall bracket incorporates an ingenious one-plug mounting system. Designed to be positioned in either a horizontal or vertical plan, the AM-1 also can be rotated through 110 degrees from center in both directions.
Its minimal projection out from a wall also adds to its appeal. So, while AM-1 has obvious applications such as providing high-quality audio around gardens, patios and around swimming pools, its sleek design will also find favor indoors. Venues such as bars, restaurants and other communal areas will benefit from AM-1's winning combination of premium sound quality, discreet styling, flexibility and durable construction.
AM-1 combines a rustproof aluminum grille with a rigid cabinet composed of glass-filled plastics, ensuring class-leading resistance to extremes of dust, moisture and UV exposure. It has also undergone rigorous, continuous testing in an accelerated salt-spray chamber, plus outdoor UV accelerated life tests to ensure its parts don't fade or discolor.
The new Bowers & Wilkins AM-1 will be available March 2013, just in time for spring patio plans.  Pricing will be $300.00 US / speaker.  Look for more details at: www.bowers-wilkins.com.