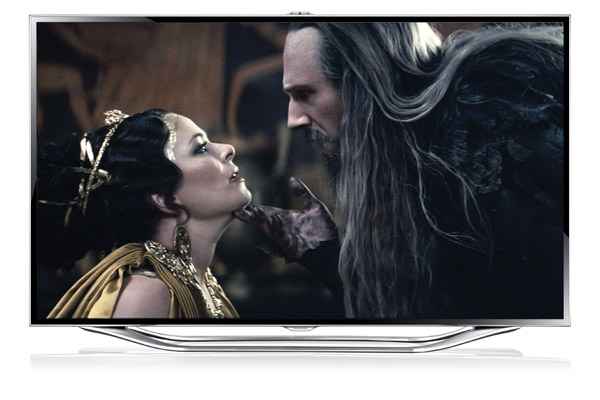 It was in the Aug/Sept 2012 issue of CANADA HiFi that I reviewed Samsung's excellent flagship PN64E8000 plasma television.  Equipped with many of the latest user technologies and delivering one of the finest images available, Samsung's reference plasma television leaves little to desire.  It's no surprise that after years of successful products and good reviews, the same can be said of the company's LED televisions.  And just so everyone is clear, and LED TV is actually an LCD TV which uses an LED backlight.  The UN55ES8000F, under review here, is part of Samsung's reference ES8000 LED series, and offers nothing but improvements over previous year's generation, reviewed in these pages just over a year ago.  Reviewing this TV felt like meeting up with an old friend; we picked up exactly where we left off but with a few new stories to tell.  The UN55ES8000F retails for $2,799 and like most higher-end TVs it offers 3D functionality and smart TV capability.
The outer edge of the UN55ES8000F appears almost identical compared to last year's D8000 series, taking the picture right out to the edge of the frame while keeping the depth incredibly thin at 3 cm.  What's new for this year is an improved base which keeps the TV much more upright and stable from edge to edge, rather than being supported only from the centre.  A camera also protrudes from the top of the frame for various Smart TV functions.  The connections on the back include 3 HDMI inputs, 3 USB inputs, a terrestrial/cable RF input (and the TOSlink out for OTA), RCA component inputs including audio, and a mini-jack for composite video and audio.  The UN55ES8000F has built-in Wi-Fi capability and also offers a hard-wire Ethernet option for faster and more reliable online service.  A 62 page printed manual is included in the box but some owners might prefer the expanded E-manual accessed directly within the TV's menu.
Those of you who read the PN64E8000 plasma television review in the Aug/Sept 2012 issue, might remember the many new controls the Smart TV offered.  This LED set is no different in that respect.  It comes with the traditional and comfortable Samsung infrared remote with large backlit buttons which is best used when not utilizing many of the Smart TV functions.  The other option is the Bluetooth Smart Touch Controller which offers far more functionality.  This new remote includes essential buttons for power, channel, and volume up/down as well as some new keys for menu navigation, voice control, and "slide-and-touch pad" functions.  To utilize its universal remote functionality, you will need to use the external IR blaster (included) to allow this Bluetooth remote to send IR commands to other components.  Android or Apple devices can be used to control this TV as well by downloading the appropriate app.
The built-in camera I mentioned earlier can be used for Skype video calling as well as "Smart Interactions" such as voice and gesture controls.  The camera recognizes hand and arm movements which allow you to change volume and channels, and control menu navigation.  As I quickly found out with the plasma TV, this LED TV must be mounted at a height where the camera can see you for the gesture controls to work properly.  More specifically, the TV can't be mounted too high.  In practice, I found the voice and gesture controls worked quite well for basic TV functions.  Maybe it's becoming the old school way of doing things, but I did reach for the "simple" remote often just to get through items faster.  Perhaps the voice and gesture controls will be more appealing to the younger crowd who are already familiar with these types of controls in their gaming systems.  Give this feature a few more years to perfect and I'm sure it'll be just as efficient as the hand-held remote.  Until then, consumers have the option to enable or disable both features.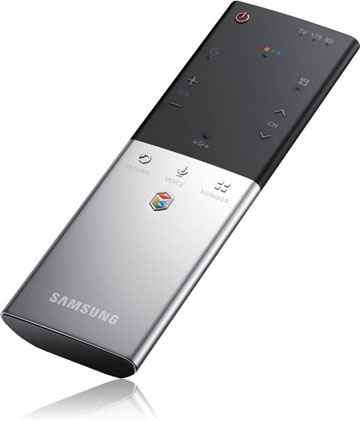 In the past I've evaluated these Smart TVs primarily as a television while making note of all of its computer-related experiences.  Since Samsung's Smart Hub gave me the feeling that the TV and the PC have converged on the same device, I've taken a different approach while reviewing this TV.  I decided to use it as my computer for online entertainment, web browsing, music production on Ableton, and general word processing (including the writing of this review).  When connected to the home network, web and digital media can be enjoyed on a large screen rather than a puny computer screen.  I generally cringe when I hear people watching movies on small computer screens.  Not only is the monitor never set up correctly for picture quality, but often the resolution doesn't match 1080p and requires unnecessary scaling and artefacts.  Using the UN55ES8000F offers full 1080p as long as the content is offered in this resolution.  I'll repeat what I've said about Samsung's plasma – many activities previously available only on computers are now possible right on the TV: an advanced movie, photo, and music experience; surfing the Internet on a full web browser; using applications such as Facebook and Twitter; and being able to watch Video on Demand.  There are over 200 free and paid apps available for download from the app store (just like on your smartphone).  Similar to the sharing capability of Apple products, Samsung's Allshare technology allows content sharing with compatible Galaxy Tablets and mobile phones.  The Smart Hub is navigated by the Smart Touch Controller and becomes fairly easy to operate once you get the hang of it.
After spending about a month using the TV's online capability, I had mixed feelings about using the TV as the source for my online entertainment.  Initially there was a "cool factor" about it but that quickly wore off.  The TV is much slower more cumbersome at accessing and navigating online content and is no match for my PC or Mac Mini hooked up to one of TV's the inputs.  I did give it a fair chance by playing with it for such a long time.  It definitely comes in handy and does the job if you don't want to connect a computer to your TV as a source component.  But because I had my PC connected via HDMI, I found myself always going back to the PC for everything that I wanted to do online.  The image quality was also substantially improved this way.  Maybe it's familiarity, maybe convenience, or maybe a bit of both.  As a result, I began wondering whether we need TV to replicate what we already have on so many devices such as smartphones, tablets and computers.  Do we really need to access Facebook through the TV too?  Perhaps all of this will make more sense in the future as TV processor speeds improve and navigation controls evolve.  For now, I prefer just to watch conventional content on my TV.
As in the past, this Samsung TV didn't disappoint when delivering pictures.  All picture modes can be calibrated to the best they allow, with the exception of when you're using the Smart TV apps.  The menu gives an on-screen explanation of how each image adjustment affects the picture, which eliminates the need to refer to the paper manual.  Like last year's D8000 series, the amount of control Samsung offers for image parameters is mind boggling for the novice and without an understanding of the video system and capable measuring instruments, they will most often be left untouched.  Samsung has rightly buried all of the advanced controls in the "advanced" and "picture options" sub-menus.  Video calibrators may find it a bit cumbersome to navigate so deep in a menu structure for single adjustments (an advanced menu hot key on a remote would be a great addition).  For those of you interested in having this reference video display calibrated, Samsung offers both 2-point and 10-point systems for precision gray scale and gamma adjustments, as well as a functioning Colour Management System (CMS).  All calibration results of this set will be available on the CANADA HiFi forum at novo.press/forum.  I will briefly mention in this review that this TV closely conforms to the TV standard and those who enjoy the most accurate picture will be excited to get this television calibrated in both 2D and 3D modes.  The UN55ES8000F can convert 2D content to 3D and comes supplied with with four active, lighter weight, third generation 3D glasses which are much more comfortable than any other pair I previously used.
After tweaking the TV to test patterns, it was now time to evaluate its true performance.  I started with some over-the-air HD programming and have to say that I really enjoy Samsung's menus for checking signal strength, programming and navigating over-the-air channels.  The image quality was far superior compared to HD cable and satellite, simply because the signal is less compressed.  Whether I was watching TV shows or newscasts on CBC in 720p or on CTV in 1080i, the Samsung did not disappoint.  The image was sharp and detailed with no noticeable edge enhancements even with the controls for this function turned off.
To test this TV's video performance with Blu-ray discs, I began with the medical conspiracy film Coma (1978) starring Michael Douglas and Genevieve Bujold.  An odd selection?  Maybe, but Warner Bros does a great job at delivering catalogue titles to Blu-ray.  The UN55ES8000F kept the look of film intact, even though I was watching 1080p video.  There wasn't a trace of digital artefacts that I could consider objectionable when considering the current video standards.  Skin tones were fair, black level was decent for an older film, and white level didn't appear peaked.  When adjusting the backlight, the TV excelled at competing with ambient light and performed better in this regard than any plasma television could.
I also viewed the Wrath of the Titans (2012) Blu-ray, starring Sam Worthington and Liam Neeson, a film that I used to review Samsung's PN64E8000 plasma in the previous issue.  This fast moving film put the TV's motion response time to the test.  Often criticized for lagging behind plasma televisions, LCD motion response has improved over the years.  The result is that faster moving images look clearer on the screen.  Since all televisions reduce resolution when displaying moving objects, Samsung offers two features – called LED Motion Plus and Auto Motion Plus – to help eliminate this "blurry" problem.  Both are on/off selectable and the latter is adjustable in varying amounts.  I did not detect a visual advantage using LED Motion Plus.  Aside from making the picture a bit darker, I struggled to find a difference when viewing a variety of moving resolution patterns from a video pattern generator and real life video content.  Hence I decided to leave this feature off.  Activating Auto Motion Plus created a new "look" to video that most people aren't accustomed to.  With this feature enabled the image looked clear and devoid of blur, but also unnaturally sped-up and made film look like it was shot with a hand-held video camera.  It's a choice one needs to make before investing time in front of this television.  There are four different Motion Plus options in this menu, one being customizable to personal taste.  This feature in general can have both a positive and negative effect on resolution integrity depending on the signal being fed.  For example, I found using this feature for native 1080p/24 frames per second a good thing in either standard or custom mode.  Clarity was excellent and blurring was absent once getting used to the new look, a look that you'll need to experience for yourself to fully understand.  But I found that the feature did not work so well for 1080p/60 and 1080i sources.  Resolution tests showed that in addition to enhanced edges, there was smearing in fine moving detail despite the reduction in blur as well as the occasional hiccup with skipping frames (it looked like the video jumped).  Once you determine what's best for your viewing, you'll need to decide whether it's worth your time to activate or deactivate this feature depending on signal type.  When viewing this film, the television provided just as much visual stimulation as the Samsung's latest plasma TV with just slightly less colour fidelity and with a black level that left little to be desired.  I still prefer the uniform black level of the plasma, but when the LED's lamp level is brought up higher for brighter room environments, this LED TV may be the preferred television for dark, fast action films and gaming.

The new Bluetooth 3D glasses are significantly lighter in weight from last year.  Since I haven't purchased any 3D movies lately, I continue to spin my favourite familiar clips from the IMAX 3D Under the Sea and Hubble, as well as The Polar Express and Final Destination 5.  I looked for any obvious signs of ghosting with little success.  3D has truly gotten much better since its introduction and crosstalk was very minimal on this Samsung TV.  All 3D glasses dim the picture, so the TV kicks itself into a brighter picture mode to offset the glasses. The image did look spectacular after calibration, perhaps even a bit better than the plasma I tested previously because of the increased light output from the LED backlight.  While I didn't test it, I can only imagine that 3D gaming would be terrific on this panel.
During the review I also tried watching some 1080p streamed video but quickly decided that it looked rather disappointing.  This TV is just too revealing of the unsightliness of streamed video when compared to a Blu-ray disc.  Regardless of the image setting, Netflix and Apple TV looked soft and exhibited video blocking, low detail, and lower colour resolution.  I believe in quality over convenience and right now there's too wide of a gap between convenience and quality.  The image quality sacrifice from streamed video was just too much for me.  We're still some time away from substituting discs for downloads.  The point is that you won't experience the full capability of this television if you stream most of your video content from apps such as YouTube or devices like the Apple TV.  To truly take advantage of this TV you'll definitely want to watch Blu-ray discs on it.  Its video streaming capability can be considered as an added bonus.
Viewing pictures from my digital camera on the other hand was quite a big surprise.  With the Mac Mini feeding the signal via HDMI, my photo collection on this calibrated TV set offered depth and realism that I've never noticed before on my computer monitor.  This was definitely an enjoyable experience.
Samsung is consistently advancing the picture quality and pushing the envelope of smart TV functionality with each new generation of its TVs.  The UN55ES8000F is one of the highest performance 2D and 3D LED TVs available in stores today and with a price of $2,799 it should be attainable to all who appreciate a good quality picture.  Its smart TV functionality, while not something I would take advantage of very often, will surely be embraced by some users and show the company's forward-thinking approach to product development.  And for this, we can all be grateful.
Mike Osadciw is a THX/ISF Professional Video Calibrator/Instructor with The Highest Fidelity
(905) 730-5996
www.thehighestfidelity.com
Samsung
www.samsung.ca
1-800-726-7864
Samsung UN55ES8000F 3D LED TV
Price: $2,799 CAD