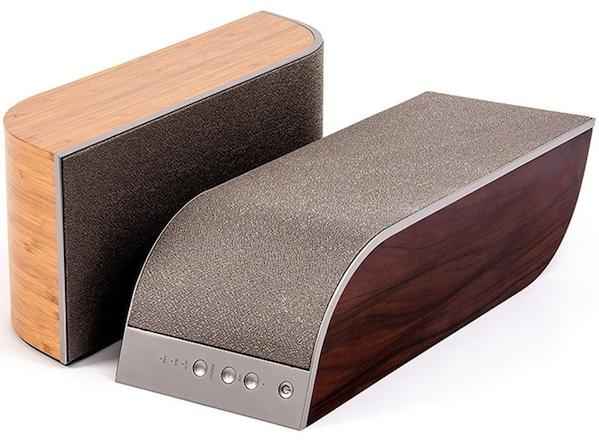 Wren Sound Systems has just announced their new Wren V5AP, wireless audio AirPlay sound system.
An engineering team, led by former Harman SVP Mike Giffin, designed the new Wren V5AP.  The Wren V5AP is said to leading-edge technology with traditional materials and build quality.  The product brings together a wireless speaker with current WiFi technology that can deliver room-filling quality sound, while being aesthetically pleasing.  
The Wren V5 is constructed of natural bamboo or rosewood veneers over half-inch thick MDF board. The cabinet is internally braced to provide a chassis free from resonance and coloration. A reinforced, acoustically transparent grille frame provides stiffness without diffraction, and a 4mm low durometer silicone pad covers the base, eliminating surface coupling buzz and sound coloration.
Powered by Intersil's D2 50 watt DSP-controlled class D amplifier, the Wren V5AP makes beautiful music using two 3-inch long throw drivers with four-layer voice coils for deeper bass and superior power handling. High frequencies are rendered silky and natural by a pair of edge-driven, wide dispersion 19mm soft dome tweeters optimally positioned on the front baffle to create a wide, realistic soundstage that floats high and free above the box.
The Wren V5AP allows users to stream music wirelessly from AirPlay-enabled devices, including iTunes for PC and Mac (10.1 or later), iPad, iPhone (3G and later) and iPod Touch (second generation and later). The Wren V5AP can serve as a wireless sound output option for OS X Mountain Lion, allowing users to experience big sound from movies, music, games and more.  A  30-pin USB dock connector extends Wren's compatibility to the first generation iPod Touch, iPod Nano and the original iPhone.
The Wren V5AP is backed by a no-risk guarantee and the strongest warranty in the industry. Every Wren ships with a prepaid return shipping label – if the buyer isn't completely satisfied, he or she can return the sound system within 30 days for a full refund. And every registered Wren V5AP is covered by an industry-leading three-year warranty.
The V5AP is currently available direct from Wren Sound Systems at a retail price of $399 U.S.  Look for more details or to purchase the Wren V5AP at: www.wrensound.com.