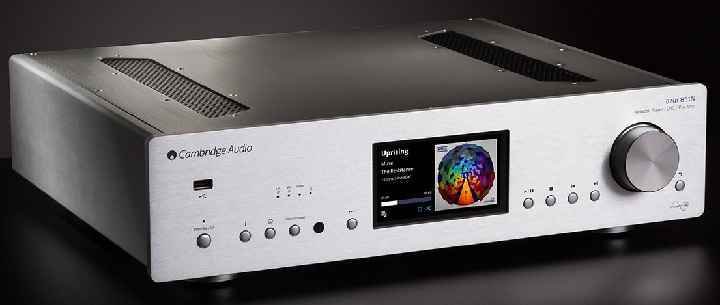 Cambridge Audio has just recently announced the launch of their new flagship network music player – the Azur 851N.  The 851N is a no compromise product that is capable of playing all popular formats up to 24-bit/192kHz studio master quality files.
The 851N combines specially selected, audiophile grade components in an all-metal, ultra-rigid chassis.  A new 4.3″ colour screen displays album artwork, while the new Cambridge Connect Apps for Apple and Android provides for an easy and enjoyable user experience.
The 851N can connect wired or wirelessly via UPnP over a home network, allowing it to effortlessly find and stream music stored on computers, laptops and NAS drives. Three USB inputs allow direct playback from USB HDDs and memory sticks. There are also two Toslink optical inputs, two S/PDIF coaxial inputs, an AES/EBU input and asynchronous USB audio.
Asynchronous USB audio allows playback of up to 24-bit/192kHz audio files direct from a connected computer or laptop, with the 851N effectively acting as a high-quality external sound card.
The 851N also features Apple Airplay and support for an optional BT100 aptX Bluetooth receiver for instant and effortless streaming from any smartphone or tablet to play back users' favourite apps and services in stunning quality.
RCA and balanced XLR analogue outputs, as well as a digital AES/EBU, TOSLINK and coaxial outputs, allow connection to a wide range of high-performance Hi-Fi components, and the RS-232 port enables integration into custom installations.
Capable of handling all popular codecs including WMA, MP3, AAC, HE AAC, AAC+ and Ogg Vorbis and lossless 24-bit/192kHz FLAC, ALAC, WAV and AIFF files, the 851N can play virtually any file from a digital music library. There is also in-built support for leading streaming services including Spotify Connect, Pandora, Rhapsody, BBC iPlayer Radio, and of course Internet radio.
Using the unique second-generation Adaptive Time Filtering (ATF2) audio upsampling, which intelligently upsamples all audio inputs to 24-bit/384kHz to draw out extra detail and virtually eliminate the jitter inherent to digital inputs.
The new 851N utilizes twin Analog Devices AD1955 DACs in 'dual differential' mode (with left/right channels processed separately) to ensure the best D/A conversion.  Audiophile grade components, including a high-end digital preamplifier and large toroidal transformer, powered by a fully linear power supply guarantees true class leading performance and a product that deserves flagship status.
Furthermore, the internal digital preamp is driven by a high spec, custom-coded 32-bit Blackfin DSP which keeps the audio signal in the digital domain for as long as possible, limiting analogue signal deterioration and noise. It also ensures that the 851N is much more than just a network streamer, but a high-end digital pre-amp too, making it the ideal partner for the Azur 851W or an existing power amplifier.  There is no bit reduction for volume control, instead volume is controlled by the Blackfin DSP to preserve signal integrity and overall sound quality.
A brand new, more powerful processor enables 24-bit/192 kHz streaming over Wi-Fi and also allows for a much more user-friendly interface. Whether using the superb 4.3″ TFT colour display, or the completely redesigned Cambridge Connect Apps for both Apple and Android devices, control of the Azur 851N is effortless.
In-keeping with the rest of the flagship Azur 851 Series, the 851N has all-metal casework and ultra-rigid chassis, precision engineered for audio performance and longevity.
The all new Azur 851N flagship network music player was just debuted at CES 2015 in Las Vegas and will be available by the end of Q1/2015 at a MSRP of: $1,800 U.S.  Look for more information at: http://www.cambridgeaudio.com/.
Comments are closed.