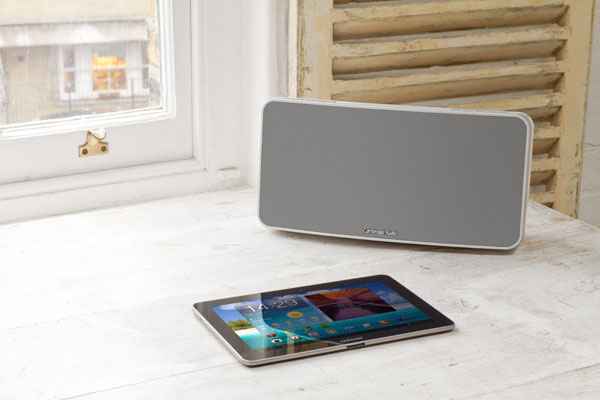 Cambridge Audio has just debuted its new Minx Air 100 and 200 compact wireless speaker systems designed to play music from smart phones, tablets or computers in superb, Hi-Fi quality. These systems claim to mark the first time a Hi-Fi wireless speaker boasts integrated AirPlay, Bluetooth, and built-in Internet Radio.  The Minx Air 100 and 200 are designed to deliver maximum possible detail from your music and streaming services. Patented BMR (Balanced Mode Radiator) speakers create a rich sound that's more room-filling than similar-sized traditional speakers. BMR's unique, hybrid design of pistonic and flat panel technology ensures you never have to find the "sweet spot" to enjoy your music. Meanwhile, a custom-developed digital amplifier guarantees heart-thumping performance, even at top volumes.
Minx Air also features sophisticated Digital Signal Processing (DSP) using advanced algorithms developed for music and movie production by Waves Audio. This not only allows Cambridge Audio to get the biggest sound possible from Minx Air's compact enclosure, but delivers an experience that's louder, crisper and fuller than other portable systems.  Minx Air's sleek, contemporary case doesn't just look great, it's also solidly built to acoustically optimise the sound and eliminate distortion. Even the carrying handle stealthily acts as a bass port to improve deeper notes. Created to blend seamlessly with its environment rather than take over, Minx Air's organically contoured design is one of simplicity and subtlety. Its white lacquered, scratch resistant cabinet is complemented by ergonomic, soft-touch controls and is sure to look the part in any living space.
Using Apple's AirPlay wireless system, Minx Air will simply connect to your iPhone, iPad or iPod Touch, as well as computers running iTunes. However, Minx Air isn't just aimed at owners of Apple devices, it instantly connects with any Bluetooth enabled phone, tablet or computer so everyone can share their music, regardless of make or model.  For radio enthusiasts Minx Air also features integrated favorite internet radio buttons for easy access at the touch of a button. For those looking to discover new stations, the Minx Air app – for Apple or Android – opens up access to 20,000 tried and tested stations from around the world. Once presets are saved on one smartphone or tablet, they'll also be available to other devices with the Minx Air app installed.
The Minx Air app offers way more than preset control and allows volume adjustment, bass control and access to a range of EQ settings to tailor Minx Air's sound for any room. It also contains a tutorial for easy installation as well as step-by-step videos to simplify everyone's set-up experience, whatever device they're connecting. And to ensure everyone can access Minx Air with ease, Cambridge Audio includes a remote that controls of power, presets, volume and bass.  But it's not just about streaming, both Minx Air systems also have direct connections on the back so you can hook up your TV or Blu-ray player and make the most of Cambridge Audio's legendary audio performance.
Minx Air 100 – Ideal for kitchens, bedrooms and living spaces, Minx Air 100 packs a punch with 100W of power from a cabinet just 14" wide.
Minx Air 200 – Easily filling the largest rooms with crystal clear audio, Minx 200 boasts a 200W set of digital amplifiers, plus a built-in active 6.5" subwoofer offers a supercharged audio experience still only measures a modest 18" wide
AirPlay connection – Apple's wi-fi streaming technology means you can play high-quality audio from your iPhone, iPad or iTunes simply and wirelessly – Bluetooth connectivity (and enhanced Bluetooth)
The Minx Air 100 and 200 are available direct from www.cambridgeaudio.com or from Cambridge Audio specialists for $449 US and $599 US.
For more info, please visit www.cambridgeaudio.com