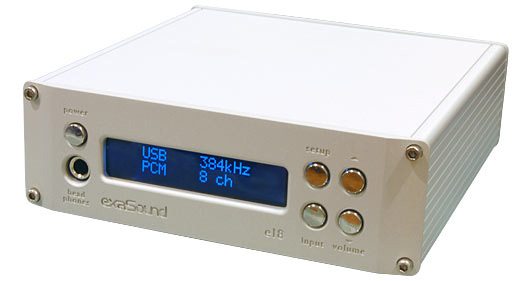 Toronto based exaSound has just introduced its first product – the e18 DAC ($1999), which promises to bring the highest quality of music reproduction to computer audiophiles. It is said to deliver transparent multichannel high-definition sound that far exceeds the sonic capabilities of high-end disc payers.  The e18 will allow leading-edge audiophiles to overcome the limitations and complexities of legacy disc media and consumer-grade equipment like players and receivers.  It meets all the expectations of demanding stereophiles and delivers a multichannel sound stage perfected for life-like musical experience.
The e18 DAC is based on the ES9018 Sabre32 reference DAC chip. It delivers 32-bit precision capable of resolving the smallest signal details. The chip features patented 32-bit Hyperstream architecture and Time Domain Jitter Eliminator and delivers the industry's highest performance levels that will satisfy the most demanding audio enthusiasts.
Additional jitter elimination is achieved by using an Asynchronous USB Interface and a proprietary ASIO Bit-Prefect Driver. The ASIO driver allows for automatic rate switching. Source files are played at their original sampling rate without any processing or re-sampling.
The e18 DAC delivers 8 channel playback at 16, 24 and 32 bit resolution for all standard sampling rates from 44.1 to 384 kHz.
For more info, please visit www.exasound.com.