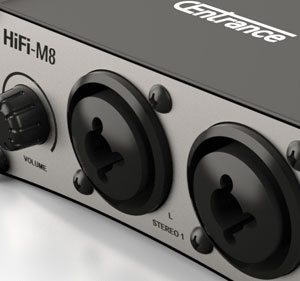 CEntrance, has just announced their new HiFi-M8 – a brand new portable digital-to-analogue converter (DAC) and headphone amplifier. Pronounced "Hi-Fi-Mate," the new portable DAC/headphone-amp streams USB digital audio from smart phones, laptops and other digital sources for on-the-go listeners.  The HiFi-M8 offers a number of tone shaping controls to EQ and customize the sound for best synergy with a variety of headphones.
The new HiFi-M8 offers several degrees of flexibility, previously not possible in a single portable device.
– streams digital music from laptops, smart phones or tablet computers
– internal Lithium-Polymer rechargeable battery offers hours of listening enjoyment for today's mobile users
– audiophile headphone amplifier supports in-ear and over-the-ear headphones, accommodates 1/4 inch unbalanced or balanced headphones
CEntrance is showing the product at the Rocky Mountain Audio Fest, held October 12th -14th in Denver, CO and expects to be shipping HiFi-M8 shortly thereafter.  The retail price for HiFi-M8 will be $699.95 USD.  Look for more details tobe shared at: www.centrance.com.