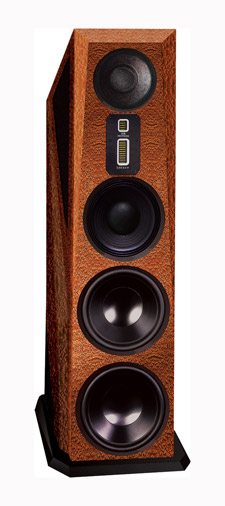 Legacy Audio has just debuted their latest loudspeaker, called the Aeris, at the Rocky Mountain Audio Fest held October 12-14, 2012. The new product is a 4-way loudspeaker featuring an all new drive complement, ICEpower bass section and digital room correction.
The system is the first to use Legacy's new dual Air Motion tweeter (AMT) which has both high power handling and high efficiency.  A new titanium encrusted 8" midrange with an enormous motor structure imported from Italy for this design.  A 10" midbass and dual 12" subwoofers with a linear volume displacement of nearly 200 cubic inches. The bass section is powered by 750 watts of ICEpower amplification and offers extension to 16Hz.  The system includes 24-bit DSP balanced and unbalanced analog inputs and outputs, level control, and both SPDIF coaxial and USB inputs.
The contruction incorporates a 2.25" thick baffle with 2" side walls. The upper portion of the speaker cabinet is open air dipole for fast decay of mid-bass frequencies and airy spacious highs. Meticulous craftsmanship displays options such as a leather laminated baffle, carbon fiber laminated base with a facetted front and sculpted sides.
Aeris Specifications:
Frequency Range: 16-30 kHz, Sensitivity: 95 dB (@2.83 volts/1m)
Upper cabinet dimensions: 58" h x 14.5" w x 16" d
Base dimensions: 1"h x 19" w x 15" d (cabinet sets into base)
Pricing and availablilty are expected to be announced soon.  For further information, please visit our website: www.legacyaudio.com.