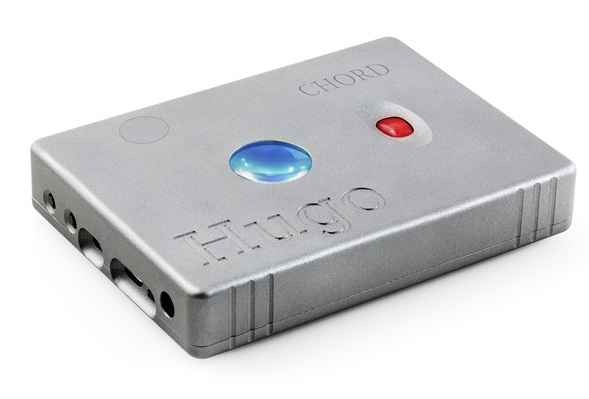 Chord Electronics is set to launch their new Hugo product at CES 2014. Based on Chord's FPGA DAC technology Hugo offers studio-master-tape sound quality, advanced connectivity and uncompromised file playback from a palm-sized player.  Hugo is both a DAC and headphone amplifier that provides five digital inputs including A2DP aptX Bluetooth, plus advanced 384kHz PCM and DSD 128 playback.
Hugo can take advantage of today's advanced studio-master-quality (DXD) music files. It can decode sample rates ranging from 44.1kHz to 384kHz (PCM).  It has two advanced USB inputs: one driverless input for legacy USB devices and one asynchronous high- definition USB port for operation up to 384kHz. In addition, two additional digital inputs (coaxial and optical) allow for any component with a digital output to benefit from Hugo's advanced technology.
The new Hugo also has A2DP Bluetooth capability and uses a custom-made module with the aptX codec to feed a digital signal directly into the DAC circuitry, so even without cables, high-quality music can still be enjoyed.  In addition to 384kHz PCM files, the Hugo can also process DSD 128 data using the latest DSD-over-PCM standard (DoP). Whether using Mac OS or Windows OS, Chord Electronics' own proprietary driver software is provided, removing the restrictions of current operating system audio playback.
With a built-in battery-charging circuit that reaches full charge in about two hours, Hugo offer great mobility and flexibility. Hugo takes no power over its USB input, only taking signal data via USB to ensure the highest performance.  It also uses an advanced reference-grade digital volume control that does not lose bits.
The casework is precision-machined from aircraft-grade aluminium and a top-mounted 'porthole' provides a glimpse at internals as well as changing colour to reflect different incoming sample rates.
Specifications:
Inputs
Optical TOSLink 24-bit/192kHz-capable
RCA coaxial input 24-bit/384kHz-capable
Driverless USB input 16-bit/48kHz-capable (designed for tablets/phones)
HD USB input 32-bit/384KHz and DSD128-capable (for computer/laptop playback; requires driver installation on Windows, others TBC)
Outputs
2×3.5mm headphone jacks
1×6.35mm (1/4 inch) headphone jack
1x (pair) stereo RCA phono output
Technical specs
Advanced digital volume control
Crossfeed filter network
Battery powered for approximately 14 hours operation. The batteries are small and less than 20Ah so this means no shipping restrictions which can be found with other less efficient designs using larger batteries.
Input, sample rate and volume level indication by colour-change LEDs
26K tap-length filter (more than double when compared to the QuteHD DAC)
THD: 140dB
Headphone output: 110dB SPL into a 300ohm headphone load
Production is expected to begin in Jan/Feb 2014 after the CES 2014 launch in early January.  The Hugo will have a MSRP of £1,200.  North American pricing is yet to be announced.  Look for details at: www.chordelectronics.co.uk