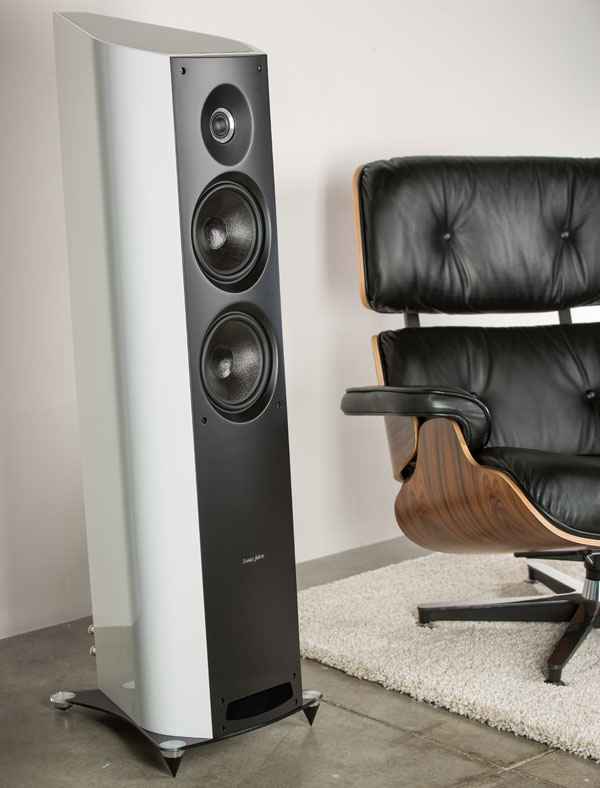 When I think of Sonus faber, I think of opulence and sophistication, the fusion of wood and leather, and without a doubt – of music.  An Italian heritage has served to birth creations of form and function, a melding of tradition with art and invention.  The company, Sonus faber (from the Latin words, "sonus" meaning sound and "faber" meaning crafted, artisan or smith) had its humble beginnings in Italy, in 1980, with a group of audiophiles led by Franco Serblin.  Since then the company has introduced many unique products, while garnering much attention and acclaim from music lovers and audiophiles alike.
In 2007, Sonus faber became part of the Fine Sounds Group, a holding company that has been acquiring well-known high-end companies ever since, including: Audio Research (2008), Wadia Digital (2010), Sumiko (2011), and most recently McIntosh Laboratory (2012).  As a whole, Fine Sounds Group is among the world's largest high-end audio product companies, having an international presence and influence.
In 2010, Sonus faber ushered in a new product era with the introduction of their reigning flagship loudspeaker, originally named Fenice, it is now known simply as "the Sonus faber" ($200,000 US).  The Sonus faber speaker is the result of a development project that sought to establish a new benchmark and as a result brought with it a number of technical, design and construction innovations, including a shape inspired by the lyre instrument.  With 2012, came the gorgeous Aida loudspeaker ($120,000 US), once again reflecting the shape of the lyre and balancing tradition with innovation.  Later, in 2012, Sonus faber launched their new Venere line (pronounced Ven-air-ay; meaning Venus).  The lute shape has dominance in the Venere line styling, analogous to the Aida and the Sonus faber.  The Venere line encompasses six models, known as the Venere: 1.5, 2.0, 2.5, 3.0, Wall and Center.  This line brings Sonus faber to a broader consumer audience through more affordable pricing and the competency for both purist stereo as well as home theatre application.  This affordable price level has been achieved though a common industry method that is a first for Sonus faber, i.e. "Designed by Sonus faber in Italy – Made in China", as stated in small print on the rear terminal plate.  I expect, Sonus faber's "Built in Italy" propensity, will depend much on the success of Venere.
John Paul Lizars and Dany Poulin of Sumiko, the North American distributor for Sonus faber, kindly took care of the arrangements to get the Venere 2.5 loudspeakers ($2,800) out to me.  They arrived in a pair of boxes, well packed and unmarred.  Inside, along with the speaker were a manual, a tempered glass base plate, mounting hardware with instructions and hex key, adjustable aluminum spikes, and a small polishing cloth.  Putting them together was relatively easy and was explained well in the accompanying instructions.  Interestingly, the spikes were of different sizes, long for the front and short for the back, resulting in a rearward lean of the speaker – higher in the front, lower in back.  This provides a poised and graceful stance but will also serve to time-align the output of the individual drivers to the listening position for overall better integration.
Sitting before me in my room the Venere 2.5 looked striking.  This pair was in a fashionable gloss white but the Venere 2.5 is also available in a stately looking gloss black and for a premium ($500) in wood veneer, the latter in better keeping with Sonus faber's tradition of rich finishes.  The Venere 2.5 cabinet has a lute or teardrop shape and a gracefully up-raked top with a gently curved front baffle thus, leaving no parallel panels.  These stylistic lines not only add greatly to the overall beauty of these speakers but have the important function of providing greater strength to the cabinet, reducing vibration and preventing the generation of internal standing waves, which would impair the accuracy of sound reproduction – once again form and function in a Sonus faber design.  A knuckle wrap test did expose some uncanny hollowness in the cabinet, about half-way back on the side, which gave me some concern about compromised performance.  The materials seemed to all be of high quality – from the inlaid tempered glass top, glass base and aluminum outrigger feet, right through to the paint, robust five-way staggered binding posts,  and satin plastic front baffle.  Fit and finish was superb, a testament to the manufacturing and quality assurance, despite the stereotypes associated with Chinese manufacturing.  The magnetic grills though a little flimsy, looked attractive and secured very well – no slipping off here.  I must say that the Venere 2.5 is most striking from an angle, rather than straight on, as it emphasizes its generous curves.  And, then there is the backside – other than Sonus faber's own Amati Futura, the butt on the Venere is about the sexiest I've seen…on a speaker, that is.
The Venere 2.5, as the name implies, is a 2½-way design that pairs a 1" silk dome tweeter with two 7" drivers, the lower one handling frequencies up to 250 Hz before rolling off and the upper one reaching up to 2,500 Hz, where the tweeter kicks in.   The tweeter is a pre-coated silk dome, without ferrofluid, that is built by the German company DKM, well-known for their manufacturing.  The woofers are textured and made of a material called Curv – a proprietary polypropylene composite.  The 2.5 is a bass reflex design that uses a non-conventional front slot-port, versus the more common round port design.  A twin pair of high quality five-way binding posts is provided on the back with removable metal jumpers that allow for bi-wiring.  Frequency response is quoted as 40 Hz–25,000 Hz with an 89dB (2.83V/1m) sensitivity and a nominal impendence of 6 ohms.  Recommended amplifier power is quoted as 40 – 250 Watts, unclipped.  Each speaker weighs in at 19.45 kg and measures 43.6" H x 13.4" W x 17.2" D.
The gentlemen from Sumiko recommended at least 100 hours of break-in, with more being better.  My experience confirmed this recommendation.  Out of the box, the treble frequencies on the Venere 2.5 sounded staccato, not bright but rather brittle, as though lacking completeness.  The midrange was vague and there was a lack of cohesiveness between the drivers.  This was cured in the first 100 hours of use; however, as told, additional time yielded additional improvement.  This improvement continued to a lesser degree over the next couple hundred hours or so and was most noticeable in terms of smoothness and fine detail retrieval.  Given my experience, I would recommend not making a judgement on the Venere 2.5 with anything less than 300 hours of use.
Before I get into specifics, I wanted to comment on the general character of the Venere 2.5 relative to what I've perceived as the Sonus faber "house-sound".  My exposure to Sonus faber has always left me with an impression of finesse and civility combined with sumptuousness and warmth.  The Venere 2.5 definitely shares in some of these qualities but it also takes a step in a new direction.  It has an overall tone that is more neutral, though still carrying some extra warmth in the midrange and fullness in the mid-bass.  Its treble is well-mannered but will be assertive when the music calls for it – unlike my experience with other Sonus faber's that are intrinsically polite.  The Venere 2.5 also has a greater ability to demonstrate authority in the areas of dynamics and output, better accommodating fans of hard rock, hip-hop or movie sound effects.  So if you've never been a Sonus faber fan, the Venere might convert you.
For my auditioning of the Sonus Faber, I primarily used my Bryston BP6 / 4B-SST2 fed by Squeezebox Touch through my Musical Fidelity M1-DAC with Kimber Kable Hero and PBJ interconnects and 8TC speaker cables.
One brilliant recording that I recently discovered is The Imagine Project by Herbie Hancock.  I've ripped this CD in WAV format to my PC, which my Squeezebox streams to my kit.  The track, Don't Give Up, through the Venere 2.5 came across in an unpretentious manner.  It was not unnaturally sharp or over-cooked in the treble, but rather had a pleasant darker quality.  Piano keys playing had lovely detail and were heard with their eerie bloom as well as lifelike sparkle and reverb.  Vocals were delivered in-the-flesh, which is to say that they did not have any perceivable thinness, rather, voices sounded whole and humanlike with more attention directed to the singing then to the recording itself.  Moving over to the wonderful rendition of one of my favourite Dylan songs, The Times, They Are A'Changin', the piano keys again were portrayed with a mesmerizing radiance and warmth that made them sound both believable and beautiful.  Cymbal play on this track involves a lot of light pattering and the Venere 2.5 did not mask the metallic character.  The singer's whispery voice was manifested in a carnal way versus a more forensic exposition.   This track includes the use of an Affrican kora, which is a string instrument that has a unique sound.  The Venere 2.5 drivers were up to the task of delivering the kora with speed, while revealing the tension in the strings and their texture.  Tonal density is not a weakness in the Venere 2.5; music comes across with detail and fullness.  The bass was full bodied though a little overripe to my ears, carrying some extra bloat and lacking some detail; however, the trade-off between fullness and warmth versus articulation was quite acceptable and really didn't reduce my enjoyment of the track.  I also found that the 2.5 could image very well – I was able to locate voice and instruments in space both in width and depth, with some variation in height and the image remained stable, which always increases my appreciation for a speaker.  In comparison to my much more expensive reference loudspeakers, the Audio Physic Sitara 25 ($5,000), the Venere 2.5 had a fuller tonal character, albeit with some veiling of detail and lost transparency, as well as some rounding of transients.  That said, overall the Venere 2.5 was thoroughly enjoyable in its own right and without a direct comparison these details would likely be overlooked.  Given the substantially lower price of the 2.5 and the need for it to accommodate both stereo and home theatre applications this is understandable and perhaps beneficial, given the typical system and source material they might be paired with.
I moved to a Coldplay album, Viva La Vida and the track named 42.  Here, the immense soundstage that this recording can produce was capably handled and served up by the Venere 2.5.  On this track the piano keys took on a little extra fullness, grand and gong-like in their portrayal, while stretching across the huge soundstage.  This soundstage reached substantially beyond the outside of the speakers, producing height and an enveloping soundstage.  Chris Martin's voice had inviting warmth to it.  The bass was dense with a little mid-bass plumpness.  As the track picked up, I was quite enthralled by the dynamics and the ability of the Venere 2.5 to sort through the complexity of this piece.  The 2.5 handled dynamics with aplomb though I did perceive a slight softening of transients.
Moving to the album, The World's Greatest Audiophile Vocal Recordings, and the track Spanish Harlem by Rebecca Pidgeon, I found Rebecca's voice came through with an attractive tone, not as light, airy and angelic as I've typically heard it but still delightful.  I perceived some calming of the higher frequencies and some downplay of the surrounding air, resulting in greater focus on the main elements within the song – the voice and instrumentation.  All the significant details to enjoy this rendering were there.  As mentioned, her voice had a little more warmth but not to the degree that it might raise objection and I expect that some might prefer this rendering.  I also found that her voice was a little more forward in the mix, giving way to a more personal feel and less theatrical quality.  On the track, Isn't She Lovely, the guitars were exposed with lovely richness and colour, giving up only a touch of sustain and tightness that I'm used to hearing with my Sitara 25.  This extra density from the Venere 2.5 is very attractive and involving in its own right.
On the Tron Legacy Soundtrack, the opening drum strikes on the track "Rinzler" were impressive in their weight and dynamics and energized my room, with the reverb enlightening the soundstage.  The impression was of fullness and power.  There was some perceived slowing of pace though anything lacking in speed was compensated for by heft.  On the track, the Game Has Changed, the opening drum synthesized beats were rendered with exciting slam.  There was good depth and weight to the bass notes with only some marginal loss in ultimate grip and articulation on the lowest notes, which I would guess would fall around 50 Hz and down.  It also seemed like bass was quickly abated below the 50 to 40 Hz range, which is this speaker's rated frequency range.  I suspect these performance limits are a result of tuning as well as enclosure colouration, i.e. the hollowness I mentioned earlier when wrapping the side of the cabinet.
The Venere 2.5 is a remarkable, multi-purpose, sub-$3,000 loudspeaker that most certainly punches above its affordable price in performance.  It's a veritable Swiss Army knife in its capacity and delivers the goods across a wide range of music genres, including movie soundtracks.  During my time with the 2.5, I noted its knack for accommodating less-than-optimal upstream sources, including poorer music material and equipment.  This in no way implies that the Venere 2.5 is opaque to sources; rather, the Venere 2.5 exemplifies a lovely bedside manner by balancing truth with kindness.  In essence, this speaker can make the most of what you give it – forgiving that which needs forgiving, while telling of greater quality sources – a quality of much appeal.  I have mentioned a few limitations in the Venere 2.5 and though buyers would do well to consider these, it must be noted that these admonitions never detracted from the musical enjoyment the Venere 2.5 provided – I always welcomed my next listen.  If you haven't yet heard them – seek them out for an audition, they may be just the speaker you've been in search of.  Congratulations to Sonus faber for bringing something new to the stage!
Sonus faber
www.sonusfaber.com
Distributed in North America by Sumiko
www.sumikoaudio.net
510-843-4500
Sonus faber Venere 2.5 Speakers
Price: $2,800 CAD