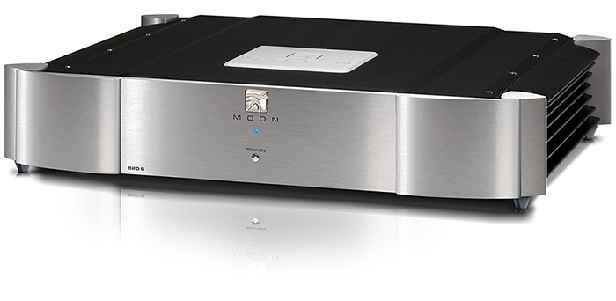 Simaudio has just announced the upcoming release of their new MOON Evolution 820S independent solid-state power supply.  The new 820S provides an upgrade path for a number of current Simaudio Evolution series models. 
The new 820S has been designed to raise the performance of already high-performing Evolution products by incorporating state-of-the-art, custom-built dual toroidal transformers, choke filtering, and Simaudio's own MOON Reference Regulation System (M-R2S) circuit. 
Improvements are provided through the further reduction of noise, while providing even greater voltage stability that results in a greater signal-to-noise ratio by way of lower noise and improved dynamcis.
The 820S has two sets of outputs that can upgrade the performance of up to two of the following MOON Evolution products simultaneously:
•740P Preamplifier
•650D DAC/CD Transports
•750D DAC/CD Transports
•610LP Phono Preamplifiers
•810LP Phono Preamplifiers
Each of the 820S outputs provides DC power on 2 separate and unique XLR type cables.
820S Technical Features:
· Two custom proprietary toroidal transformers with lower loss and improved transfer for increase speed and dynamics (on each for analog & digital supplies)
· Special "pi-type" filters (1 each for analog & digital supplies) after the inital voltage rectification stage that reduce AC transmission noise, using 40,000uF of capacitance and Dual choke inductance (2x 20mH)
· The analog and digital supplies each have 4 stages of our M-R2S circuit; A fully discrete voltage
  regulation circuit using a "precision reference" feeding an amplifier comprised of numerous IC's
  and transistors, as opposed to a single voltage regulation chip. M-R2S outputs pure and stable DC power with speed, precision and very low noise
· 4-Layer printed circuit boards with pure copper tracings and extremely low impedance characteristics
  yielding much shorter signal paths and drastically reduced noise levels
· Ultra rigid chassis construction to minimize the effects of external vibrations
· Accurate matching of the very finest quality electronic components in a symmetrical circuit design
820S Detailed Specifications:  
Type:  Solid State 
Power Supply Transformers:  2 x 0.25kVA 
Power Supply Capacitance:  80,000µF 
Power Consumption @ idle : 25 watts 
AC Power Requirements:  120V / 60Hz   220-240V / 50Hz 
Shipping weight: 40 lbs / 18 kgs
Dimensions  (w x h x d): 18.75 x 4.1 x 16.81 in.
The Simaudio MOON 820S will be available Q1-2014 at a MSRP of: $8,000.00 U.S.  Look for more details at: http://www.simaudio.com/.