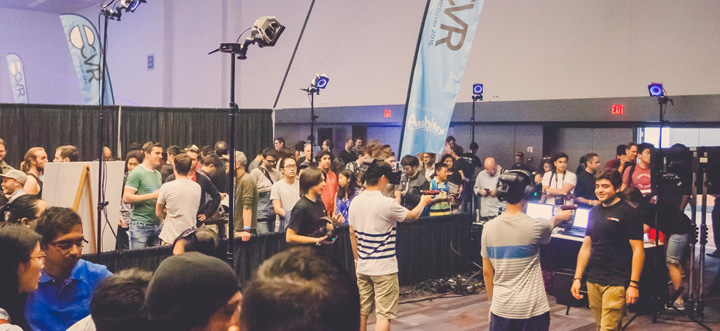 CVR is the Pacific Northwest's largest VR/AR/MR conference and expo. From May 5-7, CVR will let attendees experience groundbreaking new virtual and augmented reality technology from industry leaders. Held on the Canadian west coast in beautiful Vancouver, CVR brings together consumers, developers, businesses, and tech enthusiasts for a weekend of fun that shapes the future of VR and AR.
Friday will be Industry day – dedicated to the VR/AR professionals. There will be informative speakers, exclusive demos, product launches, and business opportunities. Meet and greet with professionals from all areas of the industry, such as: education, medical, design, and revolutionaries. There will be plenty of B2B opportunities to network with vendors, businesses, and investors from around the globe. And, of course, there will be special events… and lots of fun! Some of the amazing companies attending are: Nasa, Google, Ford, Microsoft, BCLC, Creative BC, MetaVRse, Cloudhead Games, Vancouver Economic Commission and many more!
CVR speakers include:
• Mike Almeraris
Michael leads Google's VR/AR Gaming and Partnerships for Daydream and Tango rolling out to digital storefronts. Over his 6-year span at Google, he has also worked on Mobile Partnerships and on the Product team for Mobile Search.
• Evelyn Miralles
For more than 20 years, Evelyn Miralles has worked at NASA Johnson Space Center for the Virtual Reality Laboratory to enhance Human Spaceflight. Her work as Virtual Reality Principal Engineer and Technology Strategist has been integral to train astronauts to perform one of the most dangerous excursions of their lives, working outside a spacecraft in microgravity.
• Elizabeth Baron
Elizabeth Baron is a Technical Specialist in Virtual Reality and Advanced Visualization at Ford Motor Company. She has been the driving force in the development and deployment of immersive vehicle verification technology at Ford Motor Company.
Saturday and Sunday are consumer expo days – dedicated to anyone interested in trying out the latest technology. The expo floor is 3x bigger than last year and will feature demos, demos, and more demos. CVR will have great games to play, product launches, exclusive demos, and industry grade tools not available yet to the public. It's a great place to learn about virtual reality, meet other VR enthusiast in the community, and talk to the developers behind all the games and experiences. Some of the amazing exhibitors joining the floor are: Archiact, Blueprint Reality, Centre For Digital Media, Cognitive VR, Cloudhead Games, Secret Location, Emily Carr University, and many more!
For more information jump to www.cvr2017.com