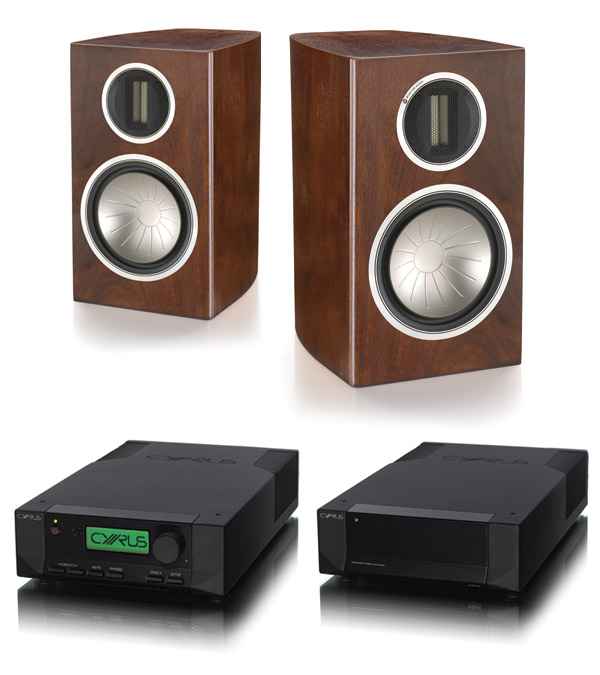 It was during the 2013 Toronto Audio Video Entertainment Show (TAVES) that I first had a chance to listen to some Cyrus Audio products. At TAVES, Kevro International hosted an inviting room with an all-Cyrus stack (source and amplification) driving a pair of Monitor Audio Platinum PL200 loudspeakers. The setup and its rich and detailed sound caught my attention and seemed to do the same for many others visiting the room. I've heard Monitor Audio speakers more than a few times and thought I knew their sound but the pairing of Monitor Audio with Cyrus Audio brought something new to the table, and the two brands of components seemed to play remarkably well together. You can find pics of the setup, along with additional details on our website in the Features section under "The 2013 Toronto Audio Video Entertainment Show Highlights – The Best Show Yet! Part 1".
Monitor Audio is a British owned and managed loudspeaker manufacturer that distributes its products globally. The company was founded back in 1972 and now has fifteen different lines of loudspeaker products. Cyrus Audio, also hails from Britain, with its headquarters near Cambridge (Huntingdon, Cambridgeshire) in England, from where all its audio products are both designed and manufactured. Cyrus had its beginnings in association with Mission loudspeakers; in the 1990s, Cyrus became a standalone business unit and in 2005 gained full independence by way of a management buyout. Today Cyrus Audio produces a number of audio products under eight main product-lines: all-in-one systems, streamers, cd players, integrated amplifiers, preamplifiers & DACs, power amplifiers, power supplies and accessories. Kevro International, by the way, is the North American distributor for Monitor Audio and Cyrus Audio as well as the Canadian distributor for Tributaries Cable and Clarus Cable.
It was early this February that Sheldon Ginn, V.P. of Sales & Marketing at Kevro, personally delivered a Cyrus Audio / Monitor Audio system to me for this review. The system was comprised of the Cyrus 8a integrated amplifier ($2,599), the Cyrus PSX-R power supply ($999) and the Monitor Audio Gold GX100 bookshelf speakers ($2,500). Sheldon also provided me with a pair of Tributaries Cable, Series 8, speaker cables ($470/pair), along with a Tributaries 8A 1-metre stereo analog RCA interconnects ($230/stereo set). Sheldon thoughtfully took the time to set-up the system within my dedicated listening room, while sharing some details on the products with me. With everything connected and ready to go, Sheldon hit the power button and… nothing. Yes, the Cyrus 8a seemed to be dead-on-arrival and so began the trouble shooting and out came my tool box. We soon discovered, on removing the bottom panel that the 8a integrated amplifier had a blown internal fuse, likely caused by a short at its last stop with a local dealer for demo. No worries, within an hour we had a replacement fuse installed and were up and running. Apart from being a prime example of "Murphy's Law", the incident provided me with an unusual opportunity to get a close-up look at the internals of the Cyrus Audio 8a – I'll describe shortly.
The Cyrus 8a integrated amplifier and PSX-R power supply, like all other Cyrus Audio components, are simplistic in their lines with faces measuring just 8 ¼" wide (less than half the width of traditional audio components). In their matte black finish they seemed sedate, while the green back-lit LCD screen of the 8a integrated amplifier had a retro feel – and brought back fond memories of car audio head units of years past. Given their demure size and appearance, I expect that many might overlook Cyrus components but I found their compact and understated appearance novel. A closer look and anyone would find their build, fit and finish impressive. Pick one up or rap the top with your knuckles and you'll be amazed with their robust construction and substantial weight. As my own rap test confirmed, both the Cyrus 8a and PSX-R have extremely inert enclosures, as dead as I've ever encountered. In fact, in this regard, the Cyrus components are genuinely top notch – up there with the best. Cyrus Audio mentions that their die-cast chassis "is formed under enormous pressure and, once cooled, is hand-finished before the final surface is applied." Such attention to detail likely provides a sonic payoff. I expect you will be as shocked as I was to find that all Cyrus components have a bottom plate made of a rather feeble plastic but the look I got inside, as mentioned above, provided a full explanation for this seeming inconsistency. It turns out that, within the 8a integrated amplifier, all the internals are affixed to the upper and inert die-cast chassis, onto which even the component feet are fastened. And so, the plastic cover serves merely as a dust cover and so is fully excusable, as such. Within the 8a integrated amplifier, I was impressed to see a hefty toroidal power supply and neatly arranged internals – all suggesting performance driven engineering.
The Cyrus Audio 8a integrated amplifier is specified to provide 70 watts per channel (8 Ohms) or 150 watts per channel (4 Ohms). Its power supply design is stated to deliver a huge peak power output of 190 watts into a 1 Ohm load. A 350 VA toroidal transformer is key to its power capabilities. The A-weighted signal-to-noise ratio is 105 dBA. Total harmonic distortion (THD) plus noise (N) figures are quoted as: <0.002% @ 1kHz for the preamplifier section and <0.002% @ 1kHz @ 2/3 power, both channels driven into 8 Ohms. Dimensions (H x W x D) are: 73 x 215 x 360 mm, with a weight of 6.9kg. The 8a also provides multi-zoning capabilities to allow playback of two sources through this integrated amplifier simultaneously – perfect for bringing music to a second room. The amplifier's powerful onboard software system allows the customization of many features including individual input sensitivity matching and multiple display modes. There are six analogue inputs, which can be custom named to show on the LCD display. Outputs consist of zone 2, preamp out, headphone out and two pairs of loudspeaker outputs for running two zones or bi-amping. A full function, full-size, solidly constructed backlit programmable remote is provided. In addition, Cyrus provides a clear and clean upgrade path for the standard 8a integrated amplifier. The Cyrus 8a integrated amplifier may be upgraded with a digital input module, making it a Cyrus 8 DAC or a Qx DAC module, to make it a Cyrus 8 Qx DAC. On top of all this the 8a includes a standard multi-pole socket on the rear for connection of an optional Cyrus PSX-R power supply.
The Cyrus PSX-R is an intelligent, highly regulated audiophile power supply that can be used with many Cyrus products, including the 8a integrated amplifier. The PSX-R is designed to provide an extremely smooth and stable DC feed. When connected to the 8a, the PSX-R serves as a dedicated power supply to the preamplifier stage within the 8a, reducing the strain on the 8a's internal power supply and filtering out any unwanted noise from the preamplifier stage for lift in overall performance. Power is achieved via a 300VA toroidal transformer. The dimensions of the PSX-R are identical to the 8a integrated amplifier and its weight is 7 kg.
Monitor Audio's Gold GX series of loudspeakers sits second only to their flagship Platinum series and incorporates many trickle down technologies. The Gold GX series contains eight loudspeakers, including: two bookshelf models (GX50 and GX100), two floorstanding models (GX200 and GX300), two centre channel models (GXC150 and GXC350), a bi-pole/di-pole surround model (GX-FX) and finally, a subwoofer model (GXW15). The GX100 is the larger bookshelf model, within the Gold GX series and is a 2-way, bass reflex, rear ported design. It has a power handing of 120 Watts (RMS), frequency response of 42Hz – 60kHz, 88 db/1W/1m sensitivity, 8 Ohm nominal impendence and 112.6 dBA maximum SPL rating. It weighs 9.9 kg / 21 ¾ lbs. with dimensions of (H x W x D): 14-3/8" x 8-1/4" x 13". The two drivers consist of one C-CAM ribbon tweeter and one 6.5" RST (ribbed) C-CAM bass/mid-driver. C-CAM is a Monitor Audio proprietary aluminum & magnesium alloy with an electroplated ceramic coating and is said to provide an optimal combination of lightness and stiffness. Internal wiring is Monitor Audio's Pureflow Silver and the cabinets are hand-built from multiple laminations of MDF, with discrete internal enclosures for the tweeter and bass/mid-driver.
The review set of Monitor Audio Gold GX100 loudspeakers came in a Piano Ebony finish, which is a premium option. Personally, I love Ebony as a veneer choice and the fit and finish of the GX100 loudspeakers was absolutely superb, a true example of first-class fit and finish. The eleven layers of lacquer, just about a millimetre thick, gave the veneer amazing depth and opulence. The GX100 loudspeakers have a contemporary form, with rounded corners, tapering on the sides from front to back. Every design element of the GX100 speaks to quality, from the polished metal driver surrounds that tastefully carry the Monitor Audio moniker, to the lovely five-way binding posts and a mounting plate with Monitor Audio insignia. Sitting on my Target MR24 mass-loaded stands, it was difficult to avoid admiring them and just focus on the listening. The speakers come with magnetic grills that are tastefully made of metal, finished in black, with an appearance matching the diffraction screens covering the ribbon tweeters. In addition to the grills are two sets of binding post jumpers and a pair of port bung plugs.
As mentioned earlier, Kevro provided me with a pair of Tributaries Cable, Series 8, speaker cables (8BW-B 10-foot bi-wire), along with a Tributaries 8A 1-metre stereo analog RCA interconnect to use with the Cyrus Audio / Monitor Audio System. The two cable products had impressive overall construction with very solid locking RCA terminations on the interconnect and locking bananas on the amp-end of the speaker cable; however, for some reason on the speaker-end, the bi-wire banana connectors seemed to be somewhat inferior i.e. non-locking and having economy-like plastic shrouds – though they worked fine. I found the Tributaries cables provided an unexpectedly high-level of performance, especially the interconnect, which in this system bested both my Kimber Kable Hero and Furutech ADL Alpha Line Plus in terms of richness, weight, and naturalness, though came up short in top-to-bottom bass articulation, and just shy of the Kimber Hero in overall resolution. I'd say the Tributaries cables are worthy of consideration, especially if you are looking for some additional body or warmth. Given their synergy with the Cyrus Audio / Monitor Audio products, I reviewed the system with them in place.
I should mention that for this review I relied on PC based music files, rendered through my Squeezebox Touch via my Furutech ADL Esprit DAC. The DAC was connected to the Cyrus 8a integrated amplifier using the aforementioned Tributaries Series 8 interconnect cable.
I began my review by experimenting with the Cyrus PSX-R power supply. It was apparent from the first trial that the PSX-R provided a definite lift in performance when connected to the 8a integrated amp. The presentation became richer and the tonal palate fuller. The sound was more lifelike with greater complexity. In particular, listening to the Mark Knopfler's track "Fade to Black", from the album On Every Street, there was a noticeable improvement in dynamics with the PSX-R in place versus the 8a alone. The elements in the track had more weight and greater presence. The guitar on the left was fuller, having greater dimensionality and the same went for Mark Knopfler's voice; overall, just greater realism. Cymbal strikes were more precise, with more delicacy, shimmer and sustain and I was more immersed in the recording. The same went for other recordings I listened to. I would say that the PSX-R provided a definite upgrade to the overall performance of the 8a. Though the 8a a-la-carte sounded very good on its own, once I heard it with the PSX-R, there was no going back.
I came across Lori Cullen's album, Calling for Rain one day when visiting my local public library. Since then I've become a real fan of the recording given its purity of sound. I listened to the track, "I Think It's Gonna Rain Today". The opening piano key strokes seemed to defy the dimensions of my room – reaching out beyond the front corners. The piano notes had great clarity, while preserving an entrancing radiance and sustain. Bass plucks had weight and fullness, if not providing the last word on articulation. I found the Cyrus and Monitor Audio system to produce a larger sound than you might expect from the sum of its parts; after all this was just a modestly powerful integrated amp with a pair of bookshelf speakers – what I heard seemed more than that. The slapping and stroking of brushes on the drum exhibited both impact and the characteristic sandy texture of the bristles over the skin. I found myself getting pulled in, forgetting the system itself and just becoming engulfed in the music – great for enjoyment – not so good for a review. The soundstage presented was large, reaching, as it seemed, beyond the side-walls of my room, while also having believable depth. Lori's voice was resolute and left me craving nothing more in terms of detail. There was just a little lightness to her tone, making her a little less embodied but this was easy to overlook, since the overall presentation had a lovely sense of air, openness and transparency. I moved on to the track, "Me and My Arrow", which has an up-beat tempo. The sound of the piano had a natural weight, with its lower register conveying the size of the instrument. The cymbals here sounded light, impeccably crisp and extended and horns sounded warm with all their brassy fullness – there was no harshness to speak of, even at higher volumes. In fact, it was here that I discovered that the Cyrus 8a, acknowledging its pairing with the GX100 loudspeakers, needed a bit more volume to reach its optimal performance – i.e. to maximize detail, fill out bass and achieve greater overall balance. Imaging was very precise, providing me with the opportunity to pick-out and focus on any of the elements within a sizeable soundscape. On the track "Away So Long" the opening guitar had a captivating tone and I enjoyed the sound of the sinuous strings resonating through the instrument's woody enclosure.
I changed things up just a bit by putting on the album Pure Heroine by Lorde. Some might say she is overplayed but since I don't listen much to Top 40 radio, I was more than happy to give a few tracks a spin. The recording is heavy on synth and percussion, anchored throughout with Lorde's vocals. The first track up was "Tennis Court" and the overall impression I got was – crisp, tight and dynamic. With this track, the Cyrus / Monitor Audio system's affinity for rendering music in an energetic manner was undeniable. The percussive elements were vivid with pinpoint-like placement as they danced across the generous soundstage. One element I took note of were the bass notes, which were delivered without constraint – sounding larger and fuller than one might expect, with a respectable amount of definition. If the track "Tennis Court" sounded large, moving to the big hit "Royals" sounded grand. Cranking this up, the percussive low drum notes were unyielding and generated a soundstage beyond the walls of my room. The overall sound was tight, punchy and clean. Vocals were pure and the sounds of stick strikes and their accompanying echoes were presented with lucid clarity. There was nothing small about the sound of the system on this track. The soundstage was enveloping and engaging, with the elements in the music fully breaking loose of the speaker enclosures. I found that the GX100 speakers could maintain their dignity, even at significant volume levels. At the highest levels, I did get a sense of compression and I expect this was likely due to the Cyrus 8a reaching its dynamic limits but this was gradual and I never heard the system cross over into harshness or sound out of control.
Next, I moved to Shelby Lynne and her album Just A Little Lovin'. The opening impact of the kick drum had a solid and dynamic sound that caught my attention with its lifelike presence. An accompanying cymbal strike was delivered with its pristine metallic shimmer and lovely sustain and subsequent rim strikes demonstrated the system's proficiency with transient response. I also found that despite some extra presence and a slight forwardness on cymbal hits, there was never any harshness – something I'd attribute to very low distortion levels innate with the ribbon tweeters in the GX100 loudspeakers. The high frequencies were very entrancing with their purity and exactness, combined with a measure of sweetness. In light of this, Shelby's voice was brought forth in a vibrant and pure manner. The overall ebb, flow and groove of the tune was distinct, making for a pleasurable listen. Next up was the track, "You Don't Have To Say You Love Me". Her opening vocals were solemn with the decay of the echoes in this recording coming across distinctly and naturally and the soundstage reaching out deep and beyond the front wall of my room. Shelby's breaths and enunciations could easily be heard against a quiet background. The play of the guitar sounded tuneful and resonant. On the track, "I Only Want To Be With You", the pace was addictive and Shelby's voice had a delicious character emphasized by the easily discernable reverb in the recording.
My experience with the Cyrus 8a integrated amplifier, the PSX-R power supply and the Monitor Audio GX100 speakers has been delightful and insightful. Despite the compact size of the system, it managed to fill my mid-size (13' x 19' x 8') room with substantial sound. The combination provided a great measure of transparency, resolution and speed, along with impressive imaging and dynamic punch. The Cyrus 8a and PSX-R mated with the Monitor Audio GX100 loudspeakers is a system that belies its modest size and just calls out for you to listen and listen some more. The overall sound signature is energetic and precise with weighty bass; those seeking a lush, relaxed or laid-back presentation should look elsewhere. On a quality level, I found both the Cyrus components and Monitor Audio loudspeakers to be remarkable – it's great to see such refinement at these price levels. Leave it to the Brits to package good things in small packages. Let me just wrap it up with saying that I'm going to find it hard to bid thee farewell.
Cyrus Audio | www.cyrusaudio.com
Monitor Audio |www.monitoraudio.ca
Tributaries Cable | www.tributariescable.com
Distributed by Kevro International
www.kevro.com
(800) 667-6065
(905) 428-2800
Cyrus Audio 8a Integrated Amplifier
Price: $2,599 CAD
Cyrus Audio PSX-R Power Supply
Price: $999 CAD
Monitor Audio Gold GX100 Loudspeakers
Price: $2,500/pair CAD
Comments are closed.