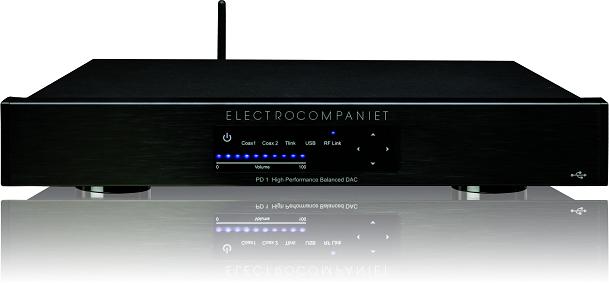 Lately all I seem to be hearing is DAC, DAC, DAC…kinda sounds like a duck.  It's just where the industry is going to meet consumer demands data streaming products.  That said, it's nice to see some of the serious audiophile companies come out with new products in this space – and so it goes with Electrocompaniet's new Prelude PD-1 Balanced DAC.
 Electrocompaniet's new Prelude series model PD-1 DAC has USB, Coaxial and optical inputs.  Analogue outputs are XLR or RCA, and as an extra avenue for music distribution it can be supplemented with a point-to-point wireless Media Streamer module. It supports sampling rates at up to 192kHz/24 bit, so is capable of handling high resolution Master Audio files.
This all means you can channel music from your CD-player, TV/Satelite tuner, iPod or PC / MAC with much improved audio results.  When connected to a PC via USB the PD-1 can (a) stream music and (b) control media players via the supplied remote control.  Output volume can also be controlled if using powered speakers or going directly to a power amplifier. 
Point-to-point wireless capability can be added via the optional EMS 1 Media Streamer $499 U.S., which can be connected via USB to a remote computer to allow streaming at 16Bit/48kHz without the need for any local wireless network. 
The PD-1 is available currently at an MSRP of $2499 U.S. 
For more details: http://www.electrocompaniet.com