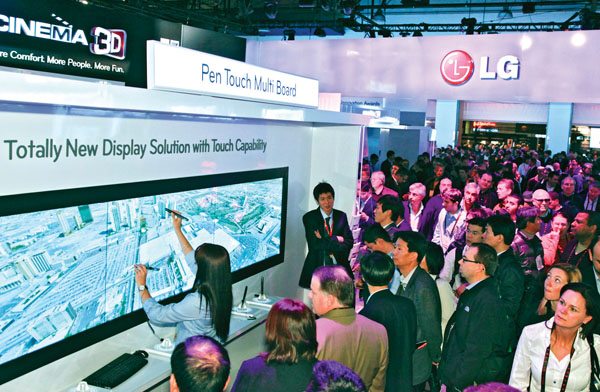 The Consumer Electronics Show is over for another year and if the products demonstrated are any indication, the upcoming year will be a great one for home theatre fans. While in the past, it took a few years for technology to trickle down into consumers' living rooms, the lag from prototype to booth demonstration to production is quickly narrowing.
2010 was supposed to be the year of the 3D TV and while uptake has been slow due to a variety of factors – price, performance, and the lack of content – 2011 will kick it up a notch with dedicated 3D-content TV networks, lower prices and most exciting of all, glasses-free and passive glasses 3D televisions (more on that below). 3D will continue to make inroads as more 3D-capable digital cameras and camcorders become available. LG currently bundles Fuji's W3 still- and video-capable 3D digital camera with their 3D HDTVs to enable consumers to immediately create and enjoy 3D content.
On the non-AV side, this year will see an influx of tablets from various manufacturers playing catch-up and eager to take a bite out of Apple's commanding market share. Google's open-source Android operating system will be powering most new tablets and consumers will have a plethora of options to choose from. Everything from simple e-book readers to 3G (cellular) connected multimedia tablets, there'll be a tablet for every niche in sizes from 5 to 10 plus inches. For many users who only surf the Internet (email, social networks, video streaming, browsing), tablets could easily replace their laptops/desktop computers.
Hitting the road, practically every automobile manufacturer has an "infotainment" system with iPod compatibility, USB memory key functionality (MP3, AAC and other formats), Bluetooth synchronization (address book, text messages, etc.) and A2DP (Advanced Audio Distribution Profile) which allows the streaming of high-bitrate stereo audio from a Bluetooth-equipped cellphone or other device. These features are available in $14,000 budget subcompacts all the way up to Audi's Bang & Olufsen-equipped executive sedan. More vehicles are also coming with Sirius satellite radio for commercial-free listening across North America.
Not to be left out, even kitchen appliances are well on the way to getting connected. Samsung showed off an Internet-connected fridge that allows consumers to check their calendar, pull up recipes from Epicurious, check the weather and run other quick apps. It hits the Canadian market in May. Similarly, Kenmore showed off a whole range of smart appliances such as dishwashers, stoves, and laundry pairs that allow remote monitoring, limited control, and remote diagnostics. Applications for iPod/iPhone and Android were demoed but these won't hit the market until 2012.
Back in the living room, the TV is rapidly evolving from more than just a dumb display and future HDTVs will be Internet-capable and have a variety of non-video functions to augment their use when your favourite TV show isn't on. The popularity of the Internet-calling program Skype is seeing Panasonic, Vizio and Sony, among others, offering high-definition webcam add-ons to allow video conferencing from your living room couch. New connected, smart TVs stream YouTube content, allow you to browse Amazon and access streaming sites such as Netflix, which recently launched in Canada. The addition of Digital Living Network Alliance (DLNA) capabilities will allow HDTVs to stream content (video, photos, music) from network-connected devices such as Windows Media Servers, Boxee, Apple TV, and XMBC.
Many connected HDTVs allow users to customize their TV's functionality by adding on widgets or applications. Samsung is poised to create an application market just for their smart TVs with both free and paid apps in 2011. Everything from stock/finance applications to specialized content (CNET, TED Talks, NPR, etc.) are available as dedicated add-ons for many smart TVs ensuring there is always something to watch.
Google's Android-powered TV, while slow out of the gate, is also being picked up by more manufacturers and is supposed to enter Canadian markets this year in both set-top and embedded versions. Google TV offers a full Flash-capable browser, access to the Android application market (imagine Angry Birds on a 55″ HDTV) and PVR control, which is currently available in the US with Dish Network PVRs (hopefully Canadians will see similar integration with Bell, Shaw and Rogers PVRs). Google TV also comes with advanced built-in search capabilities: enter a query and it searches local TV listings and the Internet, making the static program guide much easier to navigate and schedule.
For die-hard cinemaphiles, Philips is finally bringing its ultra-widescreen 21:9 aspect ratio HDTVs to North America. The LED-backlit, 3D-capable HDTVs should be available in time for the holidays. Philips also announced its first wireless-HDMI (WiDi) capable Blu-Ray player. Older, non-WiDi-equipped HDTVs can utilize a dongle to receive the signal. WiDi is being integrated into HDTVs to help reduce the clutter of cables coming out of the latest, design-conscious TVs being released. Intel showed off laptops with built-in WiDi transmitters and is also working on wireless power, though it'll be a while before they'll be able to transmit the wattage required to power a TV – and do it safely.
Love it or hate it, 3D is here to stay. Indeed, 70 percent of Sony's 2011 lineup is 3D-capable and it will be introducing glasses-free HDTVs in time for the 2011 holidays. A quick refresher for those that missed our 3D article: glasses-free 3D uses lenticular filters which direct separate images to each eye. The brain then interprets the different images as 3D. The downside of this technology is that the viewers must be located in a specific spot away from the TV – a sweet spot – where the TV's filters are "projecting" the separate images. LG, JVC, Toshiba, Sony and Vizio are all set to introduce glasses-free and passive-glasses 3D HDTVs in time for the holiday season in sizes ranging from 20″ all the way up to 65″. By the end of the year, there will be over 100 3D Blu-ray titles available and at least two dedicated 3D TV networks.
The other 3D technology that hopes to push adoption is the introduction of passive-glasses 3D. This 3D technology uses very affordable ($10-$30) passive, polarized (similar to anti-glare sunglasses) glasses that filter the image entering each eye. These glasses are virtually the same as the ones used in 3D movie theatres. They are cheap and practically disposable, which is a significant advantage compared to the $150 to $250 active-shutter 3D glasses currently used by 1st-generation 3D HDTVs. Most importantly, they offer a flicker-free image from any viewing angle or location. As always, there are disadvantages with this technology. The first is that the HDTVs capable of projecting two separately polarized images simultaneously are more expensive when compared to HDTVs which use active-shutter glasses. But as with all technologies, this will eventually come down. The second is that vertical resolution is cut in half when viewing 3D content (1920 x 540 pixels instead of 1920 x 1080).
Last, but not least, George Lucas announced the release of the entire Star Wars saga on Blu-ray. The complete six-film set will contain more than 30 hours of extras, including new and alternate scenes, on three separate discs, all remastered in the highest quality (LucasArts/Industrial Light & Magic does own THX after all). The box set will be available on Friday, September 30th, 2011 with preorders already available from some retailers.
Get ready for a year where everything you purchase will have the ability to go online and content will be available anywhere, any time.