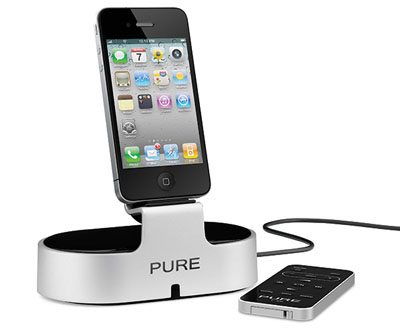 PURE just recently introduced is their next generation i-20 digital iPod dock.  This dock sets itself apart from the common folk, as it taps directly into the raw digital audio stream of your iPhone/iPod/iTouch.  How's that for pure?
The i-20 extracts the digital signal from the iPod or iPhone and uses PURE Clearsound digital end-to-end technology to produce its digital audio outputs, ensuring maximum integrity when connected to a digital amplifier or hi-fi system.  For its analogue output, i-20 again extracts the digital signal and uses its Cirrus 4353 hi-fi quality DAC and high-precision low-jitter clock to deliver true hi-fi audio performance levels with a -105dB signal to noise ratio,  better than -93dB THD+N and 2V RMS audio output from its 24-bit 192KHz digital audio processor. 
 The i-20 supports all digital audio output compatible iPod models including the iPod Touch and iPhone and includes video outputs to allow users to view videos stored on their iPhone or iPod on their TV.  A docked iPod/ iPhone charges while docked and can be controlled and navigated using the supplied remote control.
 The PURE i-20 is currently available at a price of $99 U.S.
 More information to be found at: www.pure.com